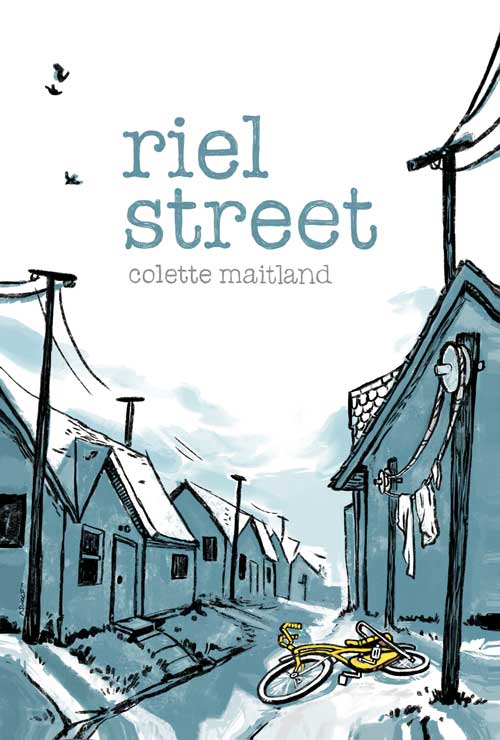 | | |
| --- | --- |
| ISBN # | 9781927823170 |
| Author | Colette Maitland |
| Pages | 200 |
| Size | 6 x 9 inches |
| Binding type | Soft Cover |
| Release Date | May 15, 2014 |
| Price CAD$ | $18.95 |
For Shirley and Corporal Gil Bouchard, life on an army base in Kingston, Ontario is a constant struggle – a struggle to make ends meet, a struggle to raise children who are searching for their own identity and moral values, a struggle to cope with relatives who don't all share a common language, or with neighbours who live by vastly different sensitivities. Sometimes, it seems, it is almost a struggle to survive. Told from the various points of view of the different protagonists, Riel Street is a realistic portrait of a military family: never sentimental, often comical and occasionally sad.
Beautifully written, Riel Street is utterly believable, a story of quiet courage, determination, grit and tenacity, a story of small everyday triumphs and occasional not-so-small tragedies – a story that could absolutely describe the lives of many Canadians during the pivotal epoch between Canada's centennial celebrations and the murder of Pierre LaPorte during the October Crisis of 1970.
Colette Maitland has published in The Antigonish Review, Pottersfield Portfolio, Descant, Room of One's Own, The Nashwaak Review, Wascana Review, The Prairie
Journal, Freefall, The Puritan, The Fiddlehead, Event, and frequently in The New Quarterly.
She placed first in The Kingston Literary Awards, The WFNB Literary Competition, and The CAA Niagara Branch "Ten Stories High" Short Story Competition. She was a finalist for the Writers' Union of Canada Postcard Story Contest; her story "Keeping the Peace" appeared in Best Canadian Stories 11.
Keeping the Peace, a collection of short stories published by Biblioasis, was long-listed for the 2013 Frank O'Connor International Short Story Award.
She lives in Gananoque, ON with her husband, Al Maitland.
How to order this book
Our books are available through Alpine Book Peddlers, Amazon and, to a lesser degree, Chapters/Indigo. Or you can make a request at your local bookseller. Alpine can be reached at 1-866-478-2280, or click the link below to order. Discounts are available for bulk orders.
Quartet 2018 Launch in Calgary
Join us for the launch of Quartet 2018 at the new Calgary Library.
Our authors for 2018 are a diverse group whose work variously evokes images of a whirling griot dervish, an Arabic oral ruba'iyat linking climate change and the oppression of women, a military brat at the food of the Rockies, and anthropomorphized creatures that morph into a love song that renders queer lives both vulnerable and endearing.
Rooster, Dog, Crow by Jim Nason
Night Flying by Laurie Fuhr
Nouveau Griot by Tanya Evanson
Ruba'iyat for the Time of Apricots by Basma Kavanagh
By Tyler B. PerryAnyone who has been through school in the past half-century has experienced poetry in the form of the multiple-choice reading comprehension test. Tyler Perry's latest collection engages in dialogic, deconstructive play with this familiar format, using...