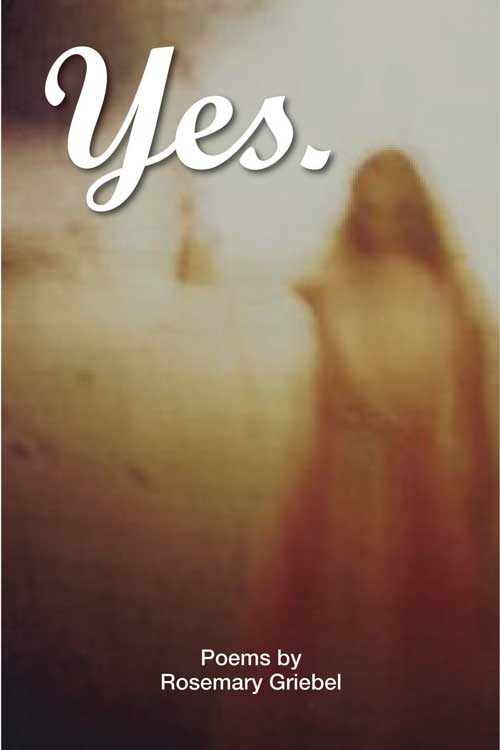 | | |
| --- | --- |
| ISBN # | 9781897181492 |
| Pages | 84 |
| Size | 6 x 9 inches |
| Binding type | Soft Cover |
| Release Date | March 15, 2011 |
| Price CAD$ | $15.95 |
"Witness" is a fine word to describe Rosemary Griebel's attitude to life, to writing. Not just witness in the sense of one who sees what anyone in the same place would see, but witness in the religious sense as well – one who understands and speaks of the miracles that linger in the day-to-day. An intensely reflective poet, Rosemary's work calls on the stink of the pig sty, the luminous words of Basho, the hoarse prayers of Walt Whitman. Yes is Rosemary Griebel's long-awaited first book, an intimate journey through love and loss, an affirmation of the importance of curiosity, passion and vision.
Awards/Nominations
Shortlisted – The Gerald Lampert Prize for Poetry, sponsored by the League of Canadian Poets.
Shortlisted – The Stephan G. Stephansson Award for Poetry (Supported by Stephan V. Benediktson), one of the 2012 Alberta Literary Awards.
Shortlisted – The Pat Lowther Prize, also from the League of Canadian Poets.
Bookmarked – The poem "Walking with Walt Whitman Through Calgary's Eastside on a Winter Day" was chosen to be Alberta's first Bookmark on the CanLit Trail
Born in the farming community of Castor, Alberta, Rosemary Griebel grew up on the prairies. There she experienced nature as both immense and intimate. It's common to say that there is little room to romanticize nature when the lives and deaths of animals are commonplace and all around you. Yet Rosemary, currently Special Projects Manager with the Calgary Public Library, where she has worked for 20 years, always knew experience as both something to be felt and something to be spoken of. Rosemary's poems have been published on CBC's radio program Anthology, in national journals, in the Calgary Transit's "Poetry in Motion" series of in-vehicle posters, and in chapbooks by Leaf Press. In the past two years, her poems have won FreeFall magazine's national poetry contest three times – in the second year of the contest, two of her poems, unknown to the judges to be by the same author, tied for first place.[/tabber]
There are no pyrotechnics of language, no dazzling or bizarre images, and yet – quietly, cumulatively – the poems succeed in evoking a time of life, the domesticity of transience, a recognition of what it is to be young, of what it is to be alive.
"The poems here are marvelous, They are prayers we speak to our 'crouched hearts.' They ask us to 'get into sorrow's truck and ride.' A delight to read, this book is the work of a truly gifted poet to be grateful for."
How to order this book
Our books are available through Alpine Book Peddlers, Amazon and, to a lesser degree, Chapters/Indigo. Or you can make a request at your local bookseller. Alpine can be reached at 1-866-478-2280, or click the link below to order. Discounts are available for bulk orders.
Quartet 2018 Launch in Calgary
Join us for the launch of Quartet 2018 at the new Calgary Library.
Our authors for 2018 are a diverse group whose work variously evokes images of a whirling griot dervish, an Arabic oral ruba'iyat linking climate change and the oppression of women, a military brat at the food of the Rockies, and anthropomorphized creatures that morph into a love song that renders queer lives both vulnerable and endearing.
Rooster, Dog, Crow by Jim Nason
Night Flying by Laurie Fuhr
Nouveau Griot by Tanya Evanson
Ruba'iyat for the Time of Apricots by Basma Kavanagh
By Tyler B. PerryAnyone who has been through school in the past half-century has experienced poetry in the form of the multiple-choice reading comprehension test. Tyler Perry's latest collection engages in dialogic, deconstructive play with this familiar format, using...