Walking Through Turquoise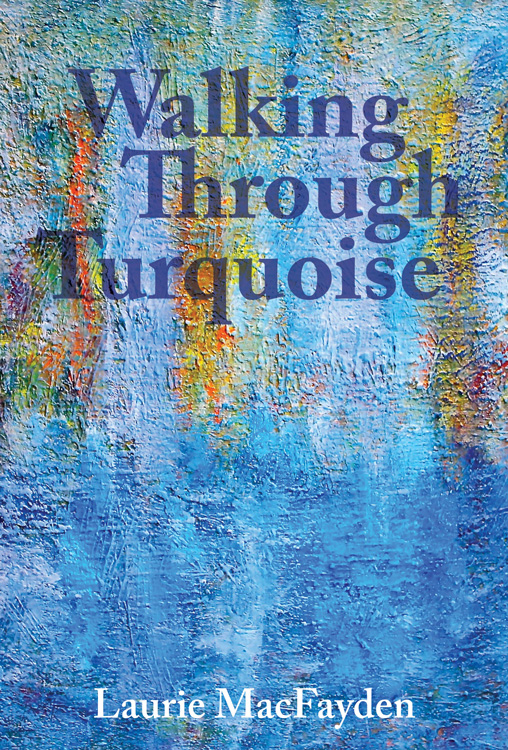 | | |
| --- | --- |
| ISBN # | 9781927823651 |
| Author | Laurie MacFayden |
| Subject | POETRY / Canadian, LGBT |
| Pages | 88 |
| Size | 6 x 9 inches |
| Binding type | Soft Cover with Flaps |
| Release Date | September 19, 2017 |
| Price CAD$ | $19.95 |
Laurie MacFayden's third book of poetry continues to explore the flirtations and secrets mined in her previous titles, White Shirt and Kissing Keeps Us Afloat. The clumsy intricacies of relationships; the things you want to shout from the rooftops but cannot tell; the tickle in your gut the first time she calls you honey. MacFayden ponders a one-way trip to Mars, the turmoil of clouds, the majesty of moonstone. "How can desire survive the tragedy of human aging?" she asks, never losing sight of the joying, wet, throbbing hallelujah. Walking Through Turquoise is a celebration of the glorious swirling twine that binds us to things of this earth and beyond.
Laurie MacFayden is an award-winning poet, visual artist and journalist who has lived in Edmonton since 1984. In addition to two books of poetry, Kissing Keeps Us Afloat (2014) and White Shirt (2010), both published with Frontenac House, her writing has appeared in The New Quarterly, FreeFall, Queering the Wayand online at canadianpoetries.com. Her work has been performed in Edmonton's Loud & Queer Cabaret, Skirts Afire HerArts Festival, and Q the Arts: Calgary's Queer Arts & Culture Festival.
How to order this book
Our books are available through Alpine Book Peddlers, Amazon and, to a lesser degree, Chapters/Indigo. Or you can make a request at your local bookseller. Alpine can be reached at 1-866-478-2280, or click the link below to order. Discounts are available for bulk orders.
Quartet 2018 Launch in Calgary
Join us for the launch of Quartet 2018 at the new Calgary Library.
Our authors for 2018 are a diverse group whose work variously evokes images of a whirling griot dervish, an Arabic oral ruba'iyat linking climate change and the oppression of women, a military brat at the food of the Rockies, and anthropomorphized creatures that morph into a love song that renders queer lives both vulnerable and endearing.
Rooster, Dog, Crow by Jim Nason
Night Flying by Laurie Fuhr
Nouveau Griot by Tanya Evanson
Ruba'iyat for the Time of Apricots by Basma Kavanagh
By Tyler B. PerryAnyone who has been through school in the past half-century has experienced poetry in the form of the multiple-choice reading comprehension test. Tyler Perry's latest collection engages in dialogic, deconstructive play with this familiar format, using...