TwoBlackEyes and The Unfinished Script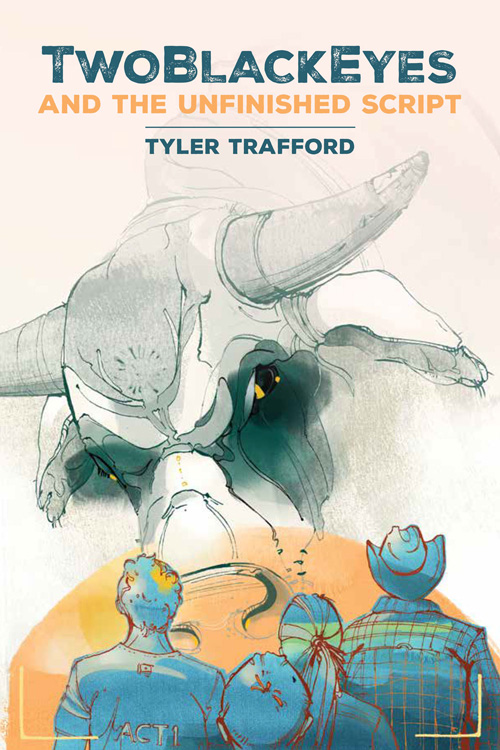 | | |
| --- | --- |
| ISBN # | 9781927823705 |
| Author | Tyler Trafford |
| Pages | 252 |
| Size | 6 x 9 inches |
| Binding type | Soft Cover |
| Release Date | June 15, 2017 |
| Price CAD$ | $24.95 |
Meet the terror named TwoBlackEyes, two tons of bone-breaking fury. And meet the unlikely friends who take on this primeval nightmare and ride it to the end. Welcome to the "Land of Ground Thunder Running".
TwoBlackEyes and The Unfinished Script is the story of a young man born into a privileged life in affluent Elbow Park, but with personal goals and ambitions at odds with his family's plans for him. Leaving private school for the public system, Nathan Munro finds unexpected friendships in a film studies class where no subject is taboo. Meet Willie, who applies the dodge and duck tactics of welfare survival to the dangers of rodeo bull fighting; smart-mouthed Stevie, who endures the black and blue reality of family violence; and self-assured Kayden, who proves that getting bucked off a bull isn't as painful as never trying. With the help of their mysterious and unorthodox teacher, Miss Emily Arbutus, the four friends challenge boundaries, face their fears and write their own futures.
Award-winning author Tyler Trafford has deftly layered the unfinished murder and revenge Buck Off script written by the late Brandon Flock into this complex three-act, character-driven novel.
Proceeds from sales of TwoBlackEyes and The Unfinished Script will benefit the Brandon Flock Foundation. The Foundation offers financial aid and mentoring to students seeking their passion in the Arts, and encourages emerging talent through the awarding of scholarships to talented and deserving students in Canada. www.brandonflockfoundation.com
Tyler Trafford's novels include The Story Of Blue Eye (a 2004 Grant MacEwan Literary Award finalist), Alexander's Way and The Métis Girl. This series focuses on the historical relationships between Native, Métis and European cultures in southern Alberta.
His most recent book, Almost A Great Escape, A Found Story, won the 2014 Alberta Readers' Choice Award, the 2014 Writers Guild of Alberta Wilfrid Eggleston Nonfiction Award, and The City of Calgary's W.O. Mitchell Book Award. The book details Tyler's discovery of his mother's past, including her forbidden Second World War love affair with the Norwegian pilot who escaped from Stalag Luft III.
Tyler grew up in Calgary and now lives on the Oldman River north of Pincher Creek, Alberta.
How to order this book
Our books are available through Alpine Book Peddlers, Amazon and, to a lesser degree, Chapters/Indigo. Or you can make a request at your local bookseller. Alpine can be reached at 1-866-478-2280, or click the link below to order. Discounts are available for bulk orders.
Quartet 2018 Launch in Calgary
Join us for the launch of Quartet 2018 at the new Calgary Library.
Our authors for 2018 are a diverse group whose work variously evokes images of a whirling griot dervish, an Arabic oral ruba'iyat linking climate change and the oppression of women, a military brat at the food of the Rockies, and anthropomorphized creatures that morph into a love song that renders queer lives both vulnerable and endearing.
Rooster, Dog, Crow by Jim Nason
Night Flying by Laurie Fuhr
Nouveau Griot by Tanya Evanson
Ruba'iyat for the Time of Apricots by Basma Kavanagh
By Tyler B. PerryAnyone who has been through school in the past half-century has experienced poetry in the form of the multiple-choice reading comprehension test. Tyler Perry's latest collection engages in dialogic, deconstructive play with this familiar format, using...