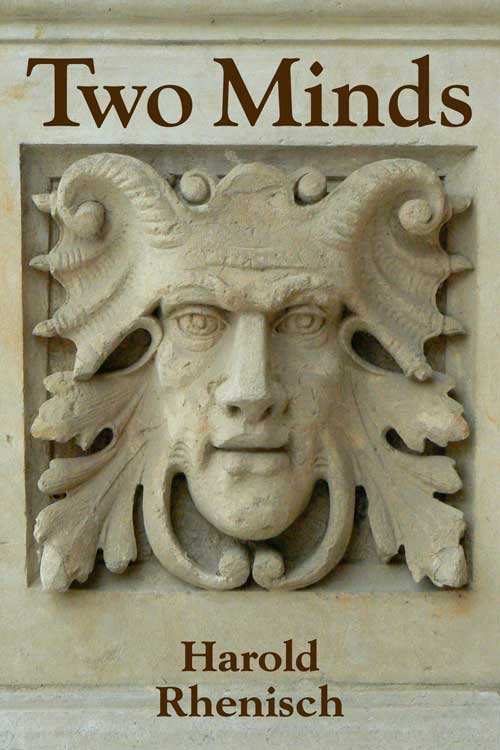 | | |
| --- | --- |
| ISBN # | 9781927823361 |
| Author | Harold Rhenisch |
| Pages | 108 |
| Size | 6 x 9 inches |
| Binding type | Soft Cover with Flaps |
| Release Date | July 1, 2015 |
| Price CAD$ | $15.95 |
Two Minds is a collection of ghazals, the persian song form transformed into a meditative practice in playful alternative logics by John Thompson, Phyllis Webb and Robert Bly. Each of these poems not only is of two minds about the state of the world, but actually has two minds, one of which Harold gives away to his readers in each poem, and one which holds it up like a mask. Each poem, formed of a different vortex of history, society, philosophy, art, the sea and the earth, is a different mind. Harold worked on many of these poems for over thirty years. Through many incarnations, they have been purified to joy, freshness and wonder. Two Minds is about the world making minds and giving them to its readers, poem by poem by poem.
HAROLD RHENISCH is from the lost orchard culture of B.C.'s Similkameen Valley and the lost German socialist colony of the Southern Okanagan. After playing Puck in A Midsummer Night's Dream, he studied poetry with P.K. Page, Charles Lillard, Derk Wynand and Robin Skelton. He holds a BA in Creative Writing from the University of Victoria (1980) and a MFA from the University of British Columbia (2007). He has published 11 previous full-length books of poems, 4 chapbooks of poetry, 4 books of innovative creative nonfiction memoir, a novel, a translation of a dissident East German playwright, and is an active editor of poetry and non-fiction, with special expertise in cross-genre works. He has won national and provincial awards for poetry, nonfiction, journalism and drama, including a CBC literary prize for poetry, the ARC poem of the year prize, and the George Ryga Prize for "The Wolves at Evelyn." He spent the spring of 2013 at the Klaustrid Artist's Residency in Skriduklautur, Iceland, uncovering the secret story of the writer Gunnar Gunnarsson, who tried to change the course of the Second World War through writing poetically-coded novels. He lives in B.C.'s Okanagan Valley, where he writes the poetic environmental and phenomenological blog okanaganokanogan.com.
How to order this book
Our books are available through Alpine Book Peddlers, Amazon and, to a lesser degree, Chapters/Indigo. Or you can make a request at your local bookseller. Alpine can be reached at 1-866-478-2280, or click the link below to order. Discounts are available for bulk orders.
Quartet 2018 Launch in Calgary
Join us for the launch of Quartet 2018 at the new Calgary Library.
Our authors for 2018 are a diverse group whose work variously evokes images of a whirling griot dervish, an Arabic oral ruba'iyat linking climate change and the oppression of women, a military brat at the food of the Rockies, and anthropomorphized creatures that morph into a love song that renders queer lives both vulnerable and endearing.
Rooster, Dog, Crow by Jim Nason
Night Flying by Laurie Fuhr
Nouveau Griot by Tanya Evanson
Ruba'iyat for the Time of Apricots by Basma Kavanagh
By Tyler B. PerryAnyone who has been through school in the past half-century has experienced poetry in the form of the multiple-choice reading comprehension test. Tyler Perry's latest collection engages in dialogic, deconstructive play with this familiar format, using...