The Little Grey Mouse: A Fable in Fabric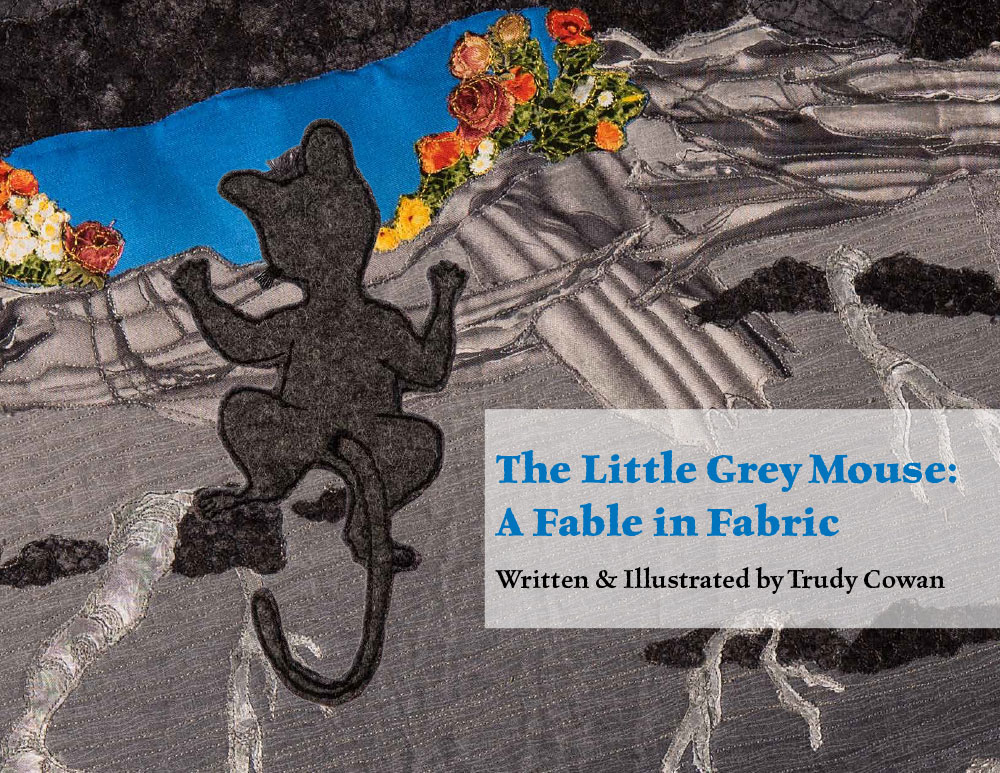 | | |
| --- | --- |
| ISBN # | 9781927823897 |
| Author | Trudy Cowan |
| Pages | 32 |
| Size | 8.5 x 11 inches |
| Binding type | Soft Cover |
| Release Date | November 5, 2018 |
| Price CAD$ | $14.95 |
A sad Little Grey Mouse searches for the one thing that will make her happy and she learns an important lesson in the process.
All illustrations are photographed quilts created by the author.
The book includes a small pattern and instructions to create your own Little Grey Mouse.
"It all began with a conversation at a Quilted Mouse Guild meeting in Calgary in 2015, a conversation about children's books with quilted illustrations.  We talked about building a story around the delightful name of our guild.  I couldn't get the idea of a mouse story out of my head. An early version of this story poem came to life that night. As the poem progressed, I drew images of possible illustrations, first as rough sketches, then more careful drawings.  The illustrations became a series of individual quilts.  Friends and quilting colleagues encouraged publishing The Little Grey Mouse and suggested taking the illustrations and the book on the road.  The "Little Grey Mouse" project was underway." ~ Trudy Cowan
Trudy Cowan has worked and volunteered in the heritage and museum field for many years.  Her service on heritage organization boards includes roles as Alberta governor and chair, Heritage Canada Foundation/Canada's National Trust; Alberta member and vice chair, Historic Sites and Monuments Board of Canada; and board member with numerous local, provincial and national groups.  Awarded an honorary doctorate for her heritage contributions by the University of Calgary in 2003, she is a published author of articles, children's stories including "Clarence's Engine" and "Quarantine: Keep Out!" and has brought her one-woman theatrical "In-Person-Ations" of historical Canadian women to stages across the country. When she retired from full-time work in the heritage world, she began quilting, bringing her life-long creativity in the needle arts, painting and drawing and her love of textiles and colour together with her long experience as a storyteller.
How to order this book
Our books are available through Alpine Book Peddlers, Amazon and, to a lesser degree, Chapters/Indigo. Or you can make a request at your local bookseller. Alpine can be reached at 1-866-478-2280, or click the link below to order. Discounts are available for bulk orders.
Quartet 2018 Launch in Calgary
Join us for the launch of Quartet 2018 at the new Calgary Library.
Our authors for 2018 are a diverse group whose work variously evokes images of a whirling griot dervish, an Arabic oral ruba'iyat linking climate change and the oppression of women, a military brat at the food of the Rockies, and anthropomorphized creatures that morph into a love song that renders queer lives both vulnerable and endearing.
Rooster, Dog, Crow by Jim Nason
Night Flying by Laurie Fuhr
Nouveau Griot by Tanya Evanson
Ruba'iyat for the Time of Apricots by Basma Kavanagh
By Tyler B. PerryAnyone who has been through school in the past half-century has experienced poetry in the form of the multiple-choice reading comprehension test. Tyler Perry's latest collection engages in dialogic, deconstructive play with this familiar format, using...