Stampede and the Westness of West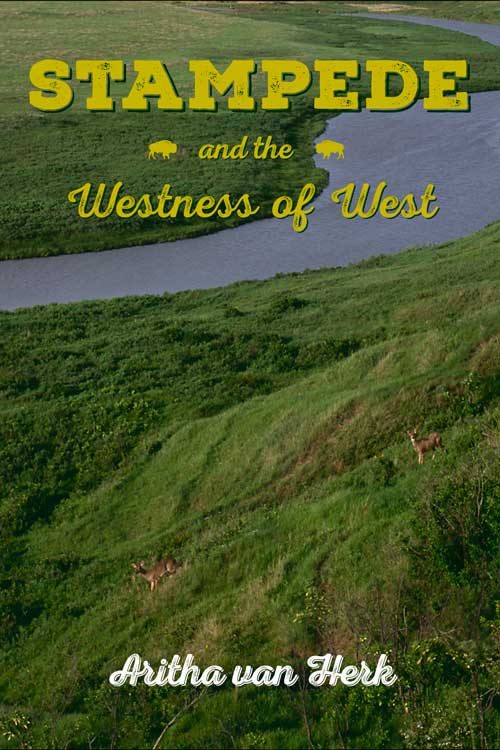 | | |
| --- | --- |
| ISBN # | 9781927823491 |
| Author | Aritha van Herk |
| Pages | 98 |
| Size | 6 x 9 inches |
| Binding type | Soft Cover with Flaps |
| Release Date | April 26, 2016 |
| Price CAD$ | $15.95 |
Calgary was the Cultural Capital of Canada in 2012 when the Stampede hosted Aritha van Herk as Artist in Residence, providing her with a privileged insider's view of the Greatest Outdoor Show on Earth. Stampede and the Westness of West is the result of her unique insights, a prose/poetry book that is meditative, imagistic, historical and speculative while eliciting all the humour and joy and occasional critique that the Stampede demands. Stampede juxtaposes references to Siena and Shakespeare and the Vogelherd Cave, the history of pancakes, and the history of the word stampede alongside speculations on lust, love, fences and Guy Weadick. Van Herk points to one line (on page 67) that sums it all up: "Stampede. There is only one, and that is Calgary's." Then she quickly adds, (on page 91): "You never know why you love something, but when you do, you cherish its faults as much as its strengths." The book, while not uncritical, is the kind of poetic meditation that the Stampede, in all its richness and variety, has long deserved.
Aritha van Herk is the author of five novels: Judith, The Tent Peg, No Fixed Address (nominated for the Governor General's Award for fiction), Places Far From Ellesmere (a geografictione) and Restlessness. Her wide-ranging critical work is collected in A Frozen Tongue and In Visible Ink; she has published hundreds of articles, reviews and essays. Her irreverent but relevant history of Alberta, Mavericks: An Incorrigible History of Alberta, won the Grant MacEwan Author's Award for Alberta Writing and frames the Mavericks exhibition at the Glenbow Museum and Archives in Calgary. With George Webber she has published In This Place: Calgary 2004-2011 (photographs by George Webber, words by Aritha van Herk) and most recently, Prairie Gothic. She teaches Creative Writing and Canadian Literature at the University of Calgary. She is a Fellow of the Royal Society of Canada, a member of the Alberta Order of Excellence, and the recipient of the Lorne Pierce Medal and the Lieutenant Governor's Distinguished Artist Award.
How to order this book
Our books are available through Alpine Book Peddlers, Amazon and, to a lesser degree, Chapters/Indigo. Or you can make a request at your local bookseller. Alpine can be reached at 1-866-478-2280, or click the link below to order. Discounts are available for bulk orders.
Quartet 2018 Launch in Calgary
Join us for the launch of Quartet 2018 at the new Calgary Library.
Our authors for 2018 are a diverse group whose work variously evokes images of a whirling griot dervish, an Arabic oral ruba'iyat linking climate change and the oppression of women, a military brat at the food of the Rockies, and anthropomorphized creatures that morph into a love song that renders queer lives both vulnerable and endearing.
Rooster, Dog, Crow by Jim Nason
Night Flying by Laurie Fuhr
Nouveau Griot by Tanya Evanson
Ruba'iyat for the Time of Apricots by Basma Kavanagh
By Tyler B. PerryAnyone who has been through school in the past half-century has experienced poetry in the form of the multiple-choice reading comprehension test. Tyler Perry's latest collection engages in dialogic, deconstructive play with this familiar format, using...