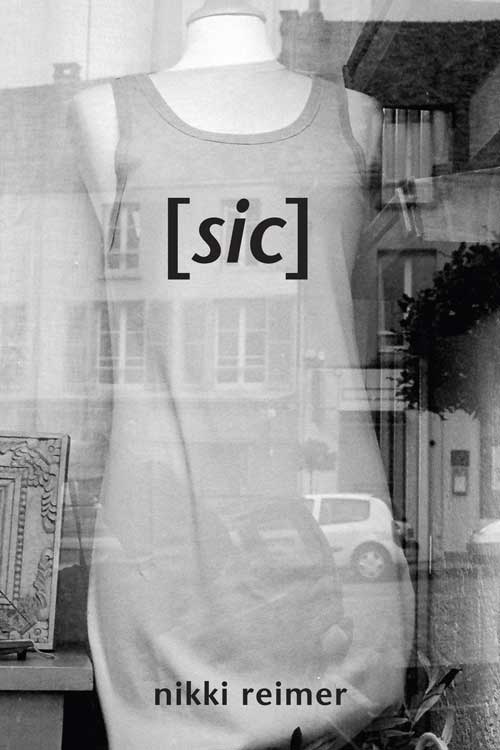 | | |
| --- | --- |
| ISBN # | 9781897181386 |
| Pages | 96 |
| Size | 6 x 9 inches |
| Binding type | Soft Cover |
| Release Date | April 1, 2010 |
| Price CAD$ | $15.95 |
[sic] thus written, error mine. Sic to incite to attack, especially as a command to a dog: "Sic 'em!" Siccing poetry on you. That's sick, as in, awesome. Or ill and sickly. Either way, the (gendered, sexualized) body is implicated. [sic] re-writes a feminist lyric within the long shadow cast by neo-liberalism upon the city and its denizens, mis-remembers the lines and re-inscribes the labour and commerce and sexual negotiations that take place there.
Shortlisted – Gerald Lampert Memorial Award
Nikki Reimer is a poet, blogger, curator, arts event planner, and cat photographer, in East Vancouver. Recent work has appeared in W, West Coast Line, Matrix, Front, Prism International andBafterC, and two of her poems were featured in the poetryinspired dance show "Larimer St." performed by Decidedly Jazz Danceworks in 2005. Her chapbook, fist things first, was published by Wrinkle Press in 2009. Reimer was a founding editor of (orange) magazine, a co-editor and designer of KSW's W12: All Music issue, and creator of the disjunct! performance series. She has blogged for Lemon Hound and the Vancouver International Writers & Readers Festival. Reimer lives in Vancouver where she is a member of the Kootenay School of Writing and a board member at W2 Community Media Arts. She blogs at http://www.nikkireimer.com/blog.php. [sic] is her first full-length book of poetry.
Catch Rob McLennan's interview with Nikki on his blog.
A rare young poet who can channel the energy given off by her personality into things greater than just MORE personality. Reimer lets it bleed into form, into cadence, into pace. The book wants you to read it cover-to-cover in, like, 30 minutes. A tough trick to pull off.
There's something wild and vital in the way this poem takes [sic]ness and thrusts it in your face, forces you to take a really close look. It's poetry that refuses to be therapeutic, and as such it's a bloody relief.
Reimer's poems are lyric but full of jarring leaps of logic, in a poetic of speed and erasure.
I highly recommend you pick up a copy. It has this raw quality to it that rages the reader. These political minded poems are quite smart in their subtle way of hitting a nerve.
Her subversions are sometimes cutthroat precise, sometimes as subtle as a tire-slash, bloody and prehensile, tearing through to the guts and heart of what language can possibly do.
[sic] is a giddy, whimsical and expertly timed series of fake-outs and sucker punches. Corporatism, sexism and intellectual sloth all get brought out for questioning in a series of wild, gesticulating poems…Reimer's voice is both dexterous and savvy.
Gorilla condoms? Goldilocks' bent-over cootchie? Gonzo cocaine? Everything's 4-sale when language is loosed as it is ici (icy) (sic). These poems are a pile-up of pop culture at "the intersection of Art and Commerce", and the city is caught at the stoplight.
Walter Benjamin did not work at Tim Hortons. Nor did he "work at the local earl's and never leave the neighbourhood." But who doesn't love cities and their edges? That doesn't mean we have to walk around like flaneurs. Most people have to drag their bodies to work and make their bodies work. What would poetry that asks "does anybody work here?" look like, how would it make and break a sentence? What city would this poetry make its capital of modernity? How would such a poetry love a "stucco shithouse"? This is to say that Nikki Reimer's [sic] is a book that Henri Lefebvre would love because it is wild in the way he wanted cities to be.
The poems in Nikki Reimer's remarkable new book, _, stubbornly violate the breath line, salute drive-by aneurisms and prince charles maxi-pads, and take innocent testicles hostage as they expose the nostalgic underbelly of subverbia _[sic]. "Remember if there's smoke," Reimer cautions, as she continually unremembers the gentrified and gendered ex-city. Poetry for the reactionary-challenged; before gobbling up this yummy dirt and mucus and icing-sugar die[t], you might prefer to slap on a condom, or an extra ovum.
How to order this book
Our books are available through Alpine Book Peddlers, Amazon and, to a lesser degree, Chapters/Indigo. Or you can make a request at your local bookseller. Alpine can be reached at 1-866-478-2280, or click the link below to order. Discounts are available for bulk orders.
Quartet 2018 Launch in Calgary
Join us for the launch of Quartet 2018 at the new Calgary Library.
Our authors for 2018 are a diverse group whose work variously evokes images of a whirling griot dervish, an Arabic oral ruba'iyat linking climate change and the oppression of women, a military brat at the food of the Rockies, and anthropomorphized creatures that morph into a love song that renders queer lives both vulnerable and endearing.
Rooster, Dog, Crow by Jim Nason
Night Flying by Laurie Fuhr
Nouveau Griot by Tanya Evanson
Ruba'iyat for the Time of Apricots by Basma Kavanagh
By Tyler B. PerryAnyone who has been through school in the past half-century has experienced poetry in the form of the multiple-choice reading comprehension test. Tyler Perry's latest collection engages in dialogic, deconstructive play with this familiar format, using...