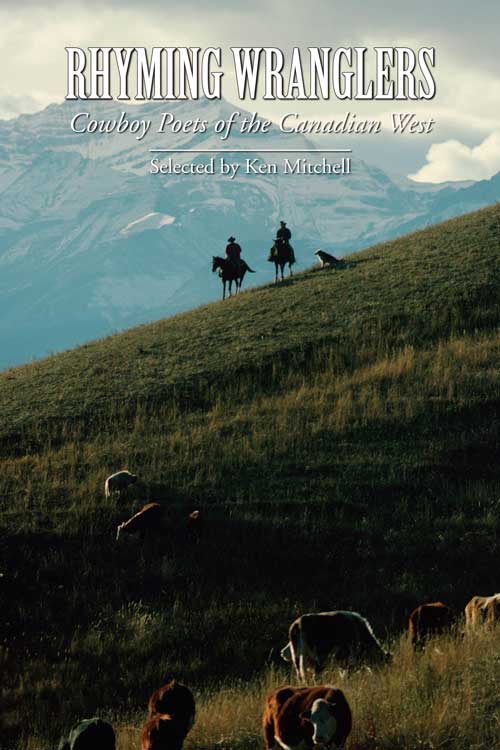 | | |
| --- | --- |
| ISBN # | 9781897181133 |
| Author | Ken Mitchell, ed. |
| Pages | 111 |
| Size | 6 x 9 inches |
| Binding type | Soft Cover |
| Release Date | July 1, 2011 |
| Price CAD$ | $18.95 |
There is a cultural movement sweeping the Western plains like a prairie fire: cowboy poetry. In gatherings and festivals from Fort Qu'Appelle to Pincher Creek, from Maple Creek to Stony Plain (and beyond), cowboy poets are chanting the praises of the ranching culture as never before.
In Rhyming Wranglers, you will meet men who are "double damn tough" and women who are even tougher. You will find plenty to laugh about from "The day Leonard taught me to chew snuff" by Denis Nagel, to Neil Meili's "The Old Dry Guy and the Bath". The whole spectrum of range life is presented: the clamour and danger of a cattle stampede; the fragrant beauty of a prairie night; the unexpected loss of a loved one. And there's a lot of cowboy philosophy here too, from the no-nonsense creed of Robert Service's "The Quitter" to the subtler values of Sid Marty's deeply moving "The Rider with Good Hands".
Rhyming Wranglers includes not only poets from pioneer times, and the current stars of the cowboy poetry festival circuit, but such major outlaw poets as Sheri-D Wilson, Sid Marty, Doris Daley and Corb Lund. You will find they all speak the authentic lingo of the cowboy.
Ken Mitchell is a well-known Canadian playwright, actor and novelist, with over 25 books to his credit, including the legendary "country opera" Cruel Tears. His drama about Norman Bethune,Gone the Burning Sun, toured the world in the 90s. Mitchell grew up on a family ranch near Moose Jaw, and went on to become a professor of English at the University of Regina. His most recent theatrical work, No Ordinary Cowboy, a tribute to the rodeo man Bill Gomersall, will tour Western Canada in 2007. He lives in Regina with his wife, the scholar Jeanne Shami.
The best cowboy poetry I've read speaks poignantly – if with the delightful country corniness, and insouciant joy and humour – of a justly celebrated but vanishing ranching way of life. ..Ken Mitchell's accomplishment here then is considerable. He's given us a chronology of the cowboy poetry sub-genre, reaching back to nineteenth and early twentieth century archival cowboy verse, and placed it where it belongs in the tradition of light verse narrative, ballad, tall tale, shaggy dog story, folk yarn; even gone so far as to show a continuum between what we would recognize as folk art – comparable say to old painted milk pails and weathered door mirrors and wagon wheel driveway markers or chandeliers – and verse satire or truly western rural free verse. Several of the poets represented are seasoned veterans of the cowboy poetry festival circuit – Elko, Pincher Creek, Maple Creek, etc. – and evince considerable skill with accentual syllabics, wit, timing, and delivery. What we don't get in indirection and metaphor we get in spades in hyperbole, ironic leg-pulls, wry (rye?) wit and humour. You'll smile a lot reading this book, and, occasionally, break out into lusty guffaws.
Looking for a little cowboy poetry to recite around your backyard fire pit? A new volume of verse about life on the range and the wide-open prairie can help you on your way. Ken Mitchell has selected works from 40 poets in his volume titled Rhyming Wranglers — Cowboy Poets of the Canadian West. Mitchell's roots are in ranching, like so many of the poets whose work he lassoed for this project. He grew up on a ranch near Moose Jaw, Sask., then hung up his cowboy hat in the city where he taught English at the University of Regina. A playwright, actor and novelist, he has more than 25 books to his name… This is a fine collection of lines that beg to be read or sung aloud. That's one of the draws of this genre — it really is meant to be shared.
How to order this book
Our books are available through Alpine Book Peddlers, Amazon and, to a lesser degree, Chapters/Indigo. Or you can make a request at your local bookseller. Alpine can be reached at 1-866-478-2280, or click the link below to order. Discounts are available for bulk orders.
Quartet 2018 Launch in Calgary
Join us for the launch of Quartet 2018 at the new Calgary Library.
Our authors for 2018 are a diverse group whose work variously evokes images of a whirling griot dervish, an Arabic oral ruba'iyat linking climate change and the oppression of women, a military brat at the food of the Rockies, and anthropomorphized creatures that morph into a love song that renders queer lives both vulnerable and endearing.
Rooster, Dog, Crow by Jim Nason
Night Flying by Laurie Fuhr
Nouveau Griot by Tanya Evanson
Ruba'iyat for the Time of Apricots by Basma Kavanagh
By Tyler B. PerryAnyone who has been through school in the past half-century has experienced poetry in the form of the multiple-choice reading comprehension test. Tyler Perry's latest collection engages in dialogic, deconstructive play with this familiar format, using...