Pat Martin Bates: Balancing on a Thread
| | |
| --- | --- |
| ISBN # | 9781897181614 |
| Author | Patricia Bovey |
| Pages | 192 |
| Size | 9 x 12 inches |
| Binding type | Hard Cover |
| Release Date | February 15, 2013 |
| Price CAD$ | $50.00 |
Pat Martin Bates is an internationally acclaimed artist and printmaker who has created a singular body of compelling work extending over half a century. She has visually synthesized an endless range of complex interests, ideas, philosophies and world mythologies in an approach to art that is innovative, diverse and unique. As painter, printmaker and sculptor, Bates pioneered or transformed many new techniques to develop a distinctive visual vocabulary through collaging, printing, painting, embossing, and piercing.
Bates has lived in New Brunswick, Ontario, Alberta and British Columbia, experiences that clearly affected her sensitivities to place and light and thus her identity as a visionary artist. She has also travelled widely: re-tracing the route of Alexander the Great, sailing as a deckhand on a replica of Darwin's Barque, or camping by the tomb of the 13th century poet Rumi. These experiences have enhanced her first-hand understanding of many cultures and history, thus bridging places, thought and time.
Bates has also served as a mentor and guide, beginning as the first printmaker to teach in the University of Victoria's Faculty of Fine Arts. She has thus served as a catalyst to emerging artists of many generations and in many countries.
She has been widely recognized and praised within Canada, winning awards and honours such as her RCA and FRSC designations, her Queen's Jubilee Medal, an honorary degree, and exhibitions throughout the country. Still, her achievements have been even more deeply appreciated overseas. She has exhibited throughout the world over many decades, and has been honoured with awards ranging from the Global Graphics Award in Holland in 1993 (the only Canadian to achieve this honour) to the Gold Medal at the International Biennale of Prints, Norway to the Critics' Choice Award at the Print Biennial in Ljubljana, Yugoslavia in 1977. Affectionately regarded everywhere as PMB, she is known in England as Lady Print, in Japan as Ambassador Extraordinaire, and in Yugoslavia, The Angel from Heaven. She is esteemed universally as the doyenne and spirit of Canadian printmaking.
Senator Patricia Bovey is one of Canada's most prominent art historians, teachers and arts management consultants. She teaches 20th century Canadian art, curatorial practice and cultural resource management; her art consulting has spanned much of Canada; and she has published and lectures widely on aspects of western Canadian art. She is a former director of the Winnipeg Art Gallery and the Art Gallery of Greater Victoria.
Among her many current roles she is Chair of the Board of Governors of the University of Manitoba, Adjunct Professor of Art History at the University of Winnipeg, Project Lead at the Buhler Gallery, St Boniface Hospital Winnipeg, a member of the Board of the Eckhardt-Gramatté Foundation, Chair of the Centre for Contemporary Canadian Art, and a member of the Pierre Elliott Trudeau Foundation. She is a former member of the National Gallery of Canada's Board of Trustees and the Board of the Canada Council for the Arts, and a past Chair of the Board of Emily Carr University Art and Design and of the Canadian Art Museum Directors Organization.
Her honours include the appointment as Fellow of both the UK's Royal Society for the Arts and the Canadian Museums Association. She was awarded the Canada125 Medal, the Queen's Golden Jubilee Medal, the 2002 Woman of Distinction for the Arts, the Canadian Museums Association Distinguished Service Award, the Royal Canadian Academy of Arts Medal and the Association of Manitoba Museum's inaugural Award of Merit. She is a Fellow of the Royal Society of Arts and a Fellow of the Canadian Museums Association.
How to order this book
Our books are available through Alpine Book Peddlers, Amazon and, to a lesser degree, Chapters/Indigo. Or you can make a request at your local bookseller. Alpine can be reached at 1-866-478-2280, or click the link below to order. Discounts are available for bulk orders.
Quartet 2018 Launch in Calgary
Join us for the launch of Quartet 2018 at the new Calgary Library.
Our authors for 2018 are a diverse group whose work variously evokes images of a whirling griot dervish, an Arabic oral ruba'iyat linking climate change and the oppression of women, a military brat at the food of the Rockies, and anthropomorphized creatures that morph into a love song that renders queer lives both vulnerable and endearing.
Rooster, Dog, Crow by Jim Nason
Night Flying by Laurie Fuhr
Nouveau Griot by Tanya Evanson
Ruba'iyat for the Time of Apricots by Basma Kavanagh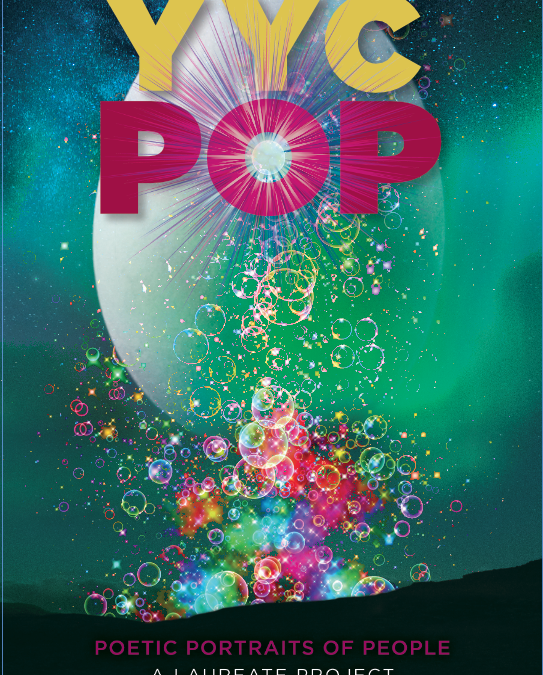 By Sheri-D Wilson If a city is characterized by the people who live there, as Calgary transforms, it is important to acknowledge who we are as we grow and change. With this idea in mind, we asked the community to write about someone who represents or captures the...