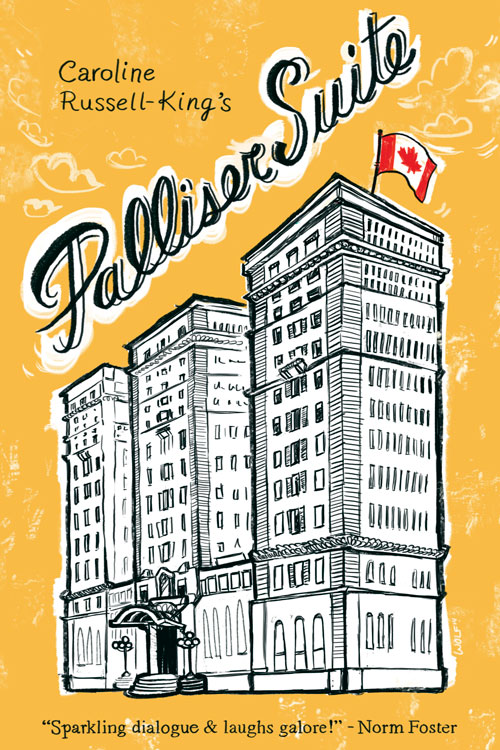 | | |
| --- | --- |
| ISBN # | 9781927823132 |
| Author | Caroline Russell-King |
| Pages | 128 |
| Size | 6 x 9 inches |
| Binding type | Soft Cover |
| Release Date | October 28, 2014 |
| Price CAD$ | $15.95 |
Palliser Suite is a trilogy of award-winning one-act plays set in Calgary's famous Palliser Hotel and written in homage to Neil Simon. Playwright Caroline Russell-King received rave reviews and critical acclaim for her work.
In the first play, Mr. Fix It, Mel wakes up at the Palliser Hotel to find his ex-wife bearing the news that she wants to marry her boyfriend, but there's a problem: her  divorce from Mel never went through. Will Mel win her back?
In the second play, Second Chance, First Love, a 60-something socialite, Zelda, hosts Stanley Stillman, her old boyfriend. Will the old flame re-spark?
The final play is Funeral Fore! Two rival brothers prepare for their father's wake and the spreading of his ashes on a golf course. Miscommunication, sibling rivalry, obsessive compulsive cleaning, laughter and tears ensue.
Caroline Russell-King has written over 30 plays, which have been produced all across Canada. Mr. Fix-It was nominated for a Betty Mitchell Theatre Award for Outstanding New Play in 2012; and in 2013 Second Chance First Love was nominated for a Calgary Theatre Critics Award for Outstanding New Script.
I wiped tears of joy from my eyes watching Caroline Russell-King's new comedy…. 5 stars!
~Louis B. Hobson, Calgary Sun
A sweet but intelligent story of former lovers reuniting for a possible return to romance…. SEE IT, you will enjoy a fabulously fun hour in the theatre.
~Jessica Goldman, CBC Radio
Russell-King keeps the tempo tuned up and the quips flying.
~Stephen Hunt, Calgary Herald
Sparkling dialogue and laughs galore!"
~Norm Foster
How to order this book
Our books are available through Alpine Book Peddlers, Amazon and, to a lesser degree, Chapters/Indigo. Or you can make a request at your local bookseller. Alpine can be reached at 1-866-478-2280, or click the link below to order. Discounts are available for bulk orders.
Quartet 2018 Launch in Calgary
Join us for the launch of Quartet 2018 at the new Calgary Library.
Our authors for 2018 are a diverse group whose work variously evokes images of a whirling griot dervish, an Arabic oral ruba'iyat linking climate change and the oppression of women, a military brat at the food of the Rockies, and anthropomorphized creatures that morph into a love song that renders queer lives both vulnerable and endearing.
Rooster, Dog, Crow by Jim Nason
Night Flying by Laurie Fuhr
Nouveau Griot by Tanya Evanson
Ruba'iyat for the Time of Apricots by Basma Kavanagh
By Tyler B. PerryAnyone who has been through school in the past half-century has experienced poetry in the form of the multiple-choice reading comprehension test. Tyler Perry's latest collection engages in dialogic, deconstructive play with this familiar format, using...