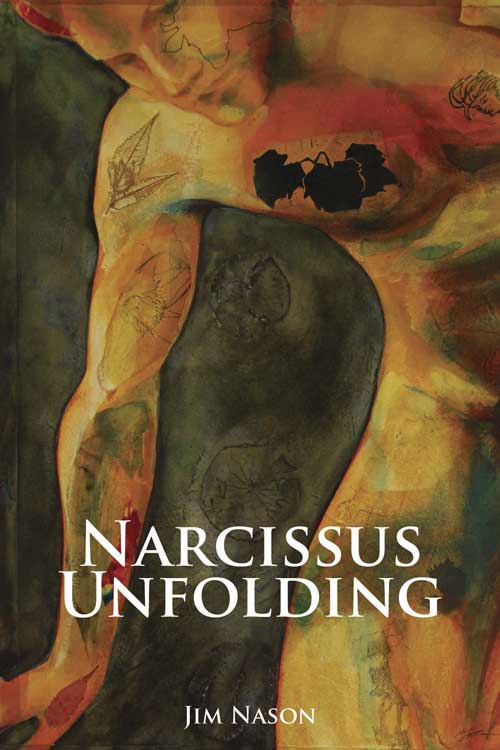 | | |
| --- | --- |
| ISBN # | 9781897181485 |
| Pages | 80 |
| Size | 6 x 9 inches |
| Binding type | Soft Cover |
| Release Date | March 15, 2011 |
| Price CAD$ | $15.95 |
The poems in Narcissus Unfolding are the force of life going on. Narcissus is a love poem – a poem to the love that goes on in the life of the people a loved one leaves behind, a poem of love to the body, even as the body betrays us. It is a book that inspires its readers to re-examine how they are loved in a world that's often disappointingly real when compared to the ideals we carry within us, sometimes to our own detriment. Yet, once accepted, once understood, real, flawed, failing love is seen in all its unfolded glory – and embraced.
Jim Nason is the author of two books of poetry, If Lips Were as Red and The Fist of Remembering, the latter a emotionally rich and honest account of the death of his partner from cancer. His novel,The Housekeeping Journals (Turnstone), is, to quote the program of the THIN AIR literary festival in which he appeared, "a warm and unsentimental portrait of a young man who provides home care to a cast of eccentrics in Toronto, including many dying" of the disease. Jim's writing doesn't flinch. And while his subject matter has often been about death and dying, his poetry is filled with light. In many ways his is the truly philosophical view that wastes no time mourning what might have been but is eager to embrace all that life might teach even in the deepest of sorrows.
Educated in Montreal (McGill), and Toronto (Ryerson and York), Jim Nason currently lives and works as a social worker in Toronto. His work, praised by writers such as John Ashbery in the United States and Laura Lush here, has appeared in many literary journals across North America.
"Visceral, erotic, tender, accurate: this poet's uncompromising gaze, 'from beneath all that love and lace' touches body and soul, interior and exterior, urban landscape and wilderness shore, 'threading through concrete and light.' From the 'glossy green tile' of Union Station '(twenty doors open at once)' to Lake Huron's 'green-grey rowel of water/and foam,' Jim Nason's Narcissus Unfolding carries its imprint of human presence – the struggle to love, the need for redemption – even as it recognizes animal forms, 'As if I were the imagined thing.' This voice knows us, inside and out, from the erotic gaze of the male for the male to 'the drawn-out stutter of a radiant heart.' 'To be a girl,' Nason writes elsewhere, '…a man/like a man able to love.'"
"By now you have given your eyes/ to the window," writes Jim Nason of a sleepless night. But throughout this wonderful collection, Nason's clear-eyed gaze is searing, his perceptions of the natural world and the human startling. His natural musicality combines with the honesty of his poems to bring us closer to our wishes, failings, emotional truths ("I want teacher to love me"; "the terrible flaw/ of your father's hand/ bruising her face"). Narcissus Unfolding gives us poems of presence in a troubling world, engagement with others, a special brilliance in capturing nature in the city and in the country, and the unsparing focus of an accomplished poet."
How to order this book
Our books are available through Alpine Book Peddlers, Amazon and, to a lesser degree, Chapters/Indigo. Or you can make a request at your local bookseller. Alpine can be reached at 1-866-478-2280, or click the link below to order. Discounts are available for bulk orders.
Quartet 2018 Launch in Calgary
Join us for the launch of Quartet 2018 at the new Calgary Library.
Our authors for 2018 are a diverse group whose work variously evokes images of a whirling griot dervish, an Arabic oral ruba'iyat linking climate change and the oppression of women, a military brat at the food of the Rockies, and anthropomorphized creatures that morph into a love song that renders queer lives both vulnerable and endearing.
Rooster, Dog, Crow by Jim Nason
Night Flying by Laurie Fuhr
Nouveau Griot by Tanya Evanson
Ruba'iyat for the Time of Apricots by Basma Kavanagh
By Tyler B. PerryAnyone who has been through school in the past half-century has experienced poetry in the form of the multiple-choice reading comprehension test. Tyler Perry's latest collection engages in dialogic, deconstructive play with this familiar format, using...