Lost: Unsolved Mysteries of Canadian Aviation
By Shirlee Smith Matheson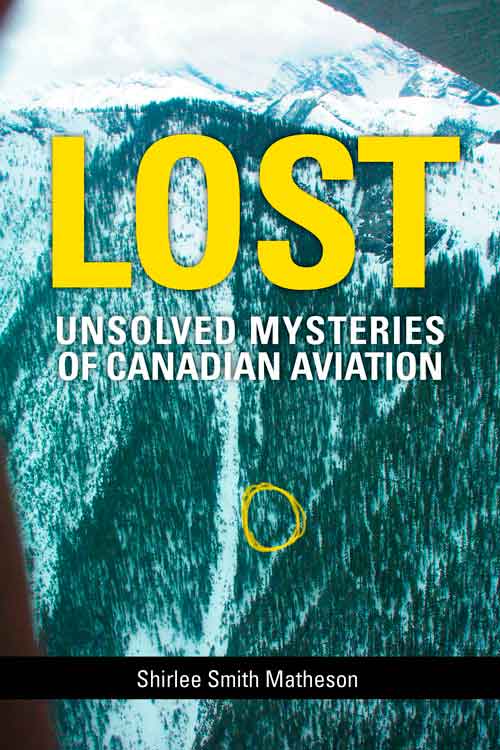 | | |
| --- | --- |
| ISBN # | 9781927823262 |
| Pages | 224 |
| Size | 6 x 9 inches |
| Binding type | Soft Cover |
| Release Date | March 15, 2015 |
| Price CAD$ | $21.95 |
Lost: Unsolved Mysteries of Canadian Aviation by Shirlee Smith Matheson is even more compelling than the original book Lost: True Stories of Canadian Aviation Tragedies published in 2005 and now out of print. New information has brought many of the stories up to date. In some cases there has been a degree of closure; while in others the mystery seems fated to forever remain unsolved.
One of the themes that runs through Lost: Unsolved Mysteries of Canadian Aviation is the enigma of aircraft that disappear, sometimes within miles of busy airports and crowded cities, and cannot be found despite desperate and prolonged searches. Sometimes wreckage is discovered decades later; on other occasions the aircraft simply vanishes, seemingly forever.
In 1937 a four-engine bomber leaves the Soviet Union on a highly publicized flight to Anchorage, Alaska to demonstrate the feasibility of a direct air link with North America. The bomber disappears without a trace and has never been found, despite exhaustive efforts that continue to the present day.
A Cessna 150 goes missing on a flght from Fort McMurray to Red Deer, Alberta; one of the most intensive searches in Canadian aviation history, that lasted three months, took 1200 hours of air time, and covered 54,000 square miles, fails to locate the slightest indication of a crash site or a downed plane.
A Hudson bomber disappears in a lake in Nova Scotia during the Second World War; despite decades of repeated effort by determined searchers using high-tech equipment, all recovery efforts have encountered nothing but frustration.
A famous hockey star is lost while flying home from a fishing expedition; even with tremendous publicity, extensive searches and generous reward offers, the aircraft was not found for over 50 years.
A Trans Canada Airlines (now Air Canada) passenger liner is in radio contact with the Vancouver airport, only two and one-half miles from Richmond, and is observed beginning its approach to land, when all contact terminates. The wreckage of the aircraft is not found until 47 years later.
How can such disappearances be possible? How can determined, skillful, trained search personnel, using sophisticated equipment, be thwarted in their effort to locate crashed aircraft? The answer is that a downed aircraft, especially in rugged countryside, can be incredibly difficult to spot from the air.
Shirlee Smith Matheson has lived in all four Western provinces and currently resides with her family in Calgary, where she was employed for a number of years at the Aero Space Museum. Her nonfiction books bring to life stories of real Canadians – pilots and priests, explorers and engineers, bushmen and prospectors. Recent titles include Amazing Flights & Flyers, Maverick in the Sky and A Royal Balance: The Life and Times of Hal Wyatt.
Her historical teen novels reflect the excitement of phenomenal journeys and major Canadian missions, and introduce readers to very odd places that really existed once upon a time. Her contemporary teen novels are also guaranteed to excite young readers everywhere.
For more information, see http://www.ssmatheson.ca/
How to order this book
Our books are available through Alpine Book Peddlers, Amazon and, to a lesser degree, Chapters/Indigo. Or you can make a request at your local bookseller. Alpine can be reached at 1-866-478-2280, or click the link below to order. Discounts are available for bulk orders.
Quartet 2018 Launch in Calgary
Join us for the launch of Quartet 2018 at the new Calgary Library.
Our authors for 2018 are a diverse group whose work variously evokes images of a whirling griot dervish, an Arabic oral ruba'iyat linking climate change and the oppression of women, a military brat at the food of the Rockies, and anthropomorphized creatures that morph into a love song that renders queer lives both vulnerable and endearing.
Rooster, Dog, Crow by Jim Nason
Night Flying by Laurie Fuhr
Nouveau Griot by Tanya Evanson
Ruba'iyat for the Time of Apricots by Basma Kavanagh
By Tyler B. PerryAnyone who has been through school in the past half-century has experienced poetry in the form of the multiple-choice reading comprehension test. Tyler Perry's latest collection engages in dialogic, deconstructive play with this familiar format, using...