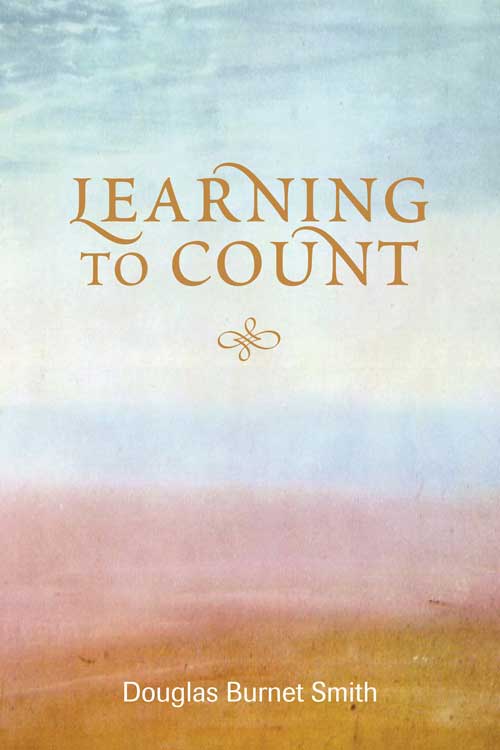 | | |
| --- | --- |
| ISBN # | 9781897181379 |
| Pages | 88 |
| Size | 6 x 9 inches |
| Binding type | Soft Cover |
| Release Date | April 1, 2010 |
| Price CAD$ | $15.95 |
In Learning to Count, Douglas Burnet Smith explores the counterpoint between everyday, often innocent, experiences and the darker elegiac tones of history. The lyricism of Tuscany's sublime skies merges into J.M.W. Turner's obsession with clouds and the author's own retracing of Turner's sources of inspiration. Jean-Baptiste Lamarck, Louis Riel, Giuseppe Garibaldi, Benito Mussolini, Robert Desnos, Napoleon and a contemplative lizard on a Corsican mountainside all have their roles to play.
In brutal contrast, the author, taking his own child to a school in France, encounters horrifying evidence of the murder of hundreds of children by French Nazi collaborators. But throughout, Smith measures the impact of his encounters with distinctly Canadian insight and awareness. And so finally the journey returns home, to Canada, to Halifax, Nova Scotia, where Pablo Picasso magically leads a naked chorus line through the streets of the city. The journey has been exhilarating, exhausting, at times almost unbearable – but always, always magical.
Shortlisted – Atlantic Poetry Prize
Douglas Burnet Smith is the author of over a dozen books of poetry. His work has won the Malahat Review's Long Poem Prize, and has been nominated for a Governor General's Award and the Atlantic Poetry Prize. He has been Writer in Residence at a number of universities in Canada and the U. S., and has served as President of the League of Canadian Poets, as well as Chair of the Public Lending Right Commission of Canada. He teaches at St. Francis Xavier University, in Antigonish, Nova Scotia, and at the American University of Paris. He divides his time between Canada, France, and Argentina.
Smith adeptly juxtaposes tough, laconic vernacular, vigorous imagery, and startling metaphor. A poet whose resources are dynamic and unforgettable.
Always, in our best poetry, the hovering care for place. Douglas Burnet Smith hears landscape; he hears the way it resounds in the people who travel its subtle and complex surface. Landscape for Smith is a kind of musical instrument.
Given Kroetsch's assertion that Burnet Smith "hears landscape," the poems in Learning to Count are best understood as site-specific recordings. Burnet Smith's poems function as subtle accretions, as lilting songs that are not complete until the last line has been sung. But the effect of his poems — and their range, capturing the instant and the epic equally well — is magnificent.
These poems are not about travel; they are about the shocks — and pleasures — of recognitions of international, cultural similarities. The manner recalls shifts and juxtapositions of Pound's epic The Cantos, but the content is more playful….Smith's lyrics are very fine, and there's even a touch of the epigrammatic here and there…. Count on these poems.
This book shows that the experience of crossing borders… is integral to anyone alive to—and in—the world.
…a wise and ably structured collection of personal memoirs bolstered by a scaffolding of history, philosophy and art….The Dektet has done well to find this poet a home, and he has rewarded them with a work that adores the world, but understands that poetry is an intimate thing, and that a marriage of the two needs a thoughtful, patient hand.
Travel writing used to be a nostalgic adventure-story or anthropological ghetto of non-fiction. This book shows that the experience of crossing borders and negotiating cultures is integral to anyone alive to – and in – the world. The poems are a layered patina, evoking not only the sensual present of France, Rome, Corsica and Halifax, but also their complex pasts, interpreted over and over through art.
How to order this book
Our books are available through Alpine Book Peddlers, Amazon and, to a lesser degree, Chapters/Indigo. Or you can make a request at your local bookseller. Alpine can be reached at 1-866-478-2280, or click the link below to order. Discounts are available for bulk orders.
Quartet 2018 Launch in Calgary
Join us for the launch of Quartet 2018 at the new Calgary Library.
Our authors for 2018 are a diverse group whose work variously evokes images of a whirling griot dervish, an Arabic oral ruba'iyat linking climate change and the oppression of women, a military brat at the food of the Rockies, and anthropomorphized creatures that morph into a love song that renders queer lives both vulnerable and endearing.
Rooster, Dog, Crow by Jim Nason
Night Flying by Laurie Fuhr
Nouveau Griot by Tanya Evanson
Ruba'iyat for the Time of Apricots by Basma Kavanagh
By Tyler B. PerryAnyone who has been through school in the past half-century has experienced poetry in the form of the multiple-choice reading comprehension test. Tyler Perry's latest collection engages in dialogic, deconstructive play with this familiar format, using...