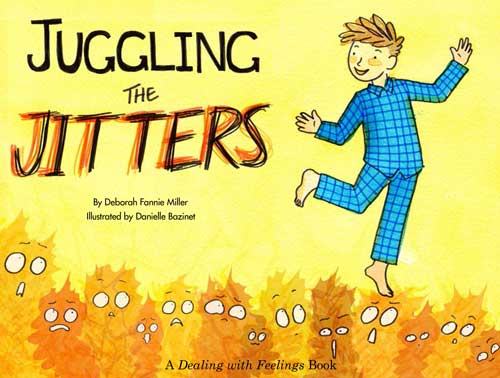 | | |
| --- | --- |
| ISBN # | 9781927823026 |
| Author | Deborah Fannie Miller |
| Pages | 32 |
| Size | 9.25 x 7 inches |
| Binding type | Soft Cover |
| Release Date | August 15, 2013 |
| Price CAD$ | $12.95 |
Turn Worry into Wiggles & Giggles
Yikes!" say the Jitters, and then even more Jitters arrive. When Jacob woke up, everything was great. But when Jacob goes to bed, everything gets JITTERY! That's when the Jitters appear and the troubles begin! You try getting ready for bed with six Jitters in your way and they keep multiplying! This is Jacob's funny and frustrating problem in Juggling the Jitters.
About the Series
"Dealing with Feelings" picture books deal with difficult emotions in comic and comforting ways. The books provide tools to stop anger and anxiety from escalating out of control and teach emotional resilency. The books are written for children in kindergarten through grade 4 to be enjoyed with parents, teachers, and other caregivers.
The plot of each book involves a parent and a mischievous "monster" (an external projection of the child character's emotions) who happily hinders and then helps the child – with their anger in Grappling with the Grumblies and their anxiety in Juggling the Jitters.
Deborah Fannie Miller is a poet, singer, actor and children's book author who lives in Calgary, Alberta. Miller's poetry has been showcased on CBC Radio, The Women's Television Network, and Vision TV. She has been widely published in literary journals throughout Canada and is in two anthologies: Tributes in Verse and Writing the Terrain: Travelling through Alberta with the Poets. She has had three collections of poetry published. Her first, I Will Burn Candles, was published by Bayeux Arts in 1995, as was her second, Grandmother's Radio, in 2002, co-authored by Susanne Heinz. Vision TV produced Two Worlds Apart? a frequently repeated short film about Grandmother's Radio. Her third collection, Landing at Night, came out in 2008, and her first children's book, Grappling with the Grumblies, came out in April 2009. In March 2011, Grappling with the Grumblies won "The Steffie Young Readers Choice Award." Juggling the Jitters comes out in the fall of 2013.
Miller is a trained actor and singer with a BFA in Drama from Scripps College in California. She has done post graduate work at the Goodman Theatre School in Chicago, and is a graduate of both the Opera and Music Theatre Programs at the Banff School of Fine Arts. Miller brings performing expertise to all her presentations. Highlights of her singing career include playing Maria in West Side Story at the Banff Summer Arts Festival and originating lead roles in two world premiere Musicals at the Canmore Opera House: "Ferret God" and "Cafe Society" with Hummingbird Productions. In 2009, Deborah sang and performed her own poetry in the two women Cabaret "Heart Ache and Healing", with Joanne Chapin, a Grammy and Juno nominated singer/actress.
Juggling the Jitters was illustrated by Alberta born and raised Danielle Bazinet, a recent graduate of the prestigious Alberta College of Art and Design illustration program. Juggling the Jitters was illustrated by Alberta born and raised Danielle Bazinet, a graduate of the prestigious Alberta College of Art and Design illustration program.
Everyone grapples with the grumblies from time to time, but this lovely (and funny!) book will help your child — and you — discover new ways of dealing with difficult feelings. I recommend it for anyone who has ever had a rough day and had trouble turning things around. In other words, it's a great book for every family."
Through engaging and playful storytelling, Grappling with the Grumblies and Juggling the Jitters offer adults and young children practical tools to work through anger and anxiety together.
Every child gets the jitters sometimes, and parents are often unsure how to help. This funny (and profound) book helps children recognize how to ease anxieties, and also gently guides parents towards a compassionate and effective approach. A fitting follow-up to Miller's wonderful Grappling with the Grumblies.
How to order this book
Our books are available through Alpine Book Peddlers, Amazon and, to a lesser degree, Chapters/Indigo. Or you can make a request at your local bookseller. Alpine can be reached at 1-866-478-2280, or click the link below to order. Discounts are available for bulk orders.
Quartet 2018 Launch in Calgary
Join us for the launch of Quartet 2018 at the new Calgary Library.
Our authors for 2018 are a diverse group whose work variously evokes images of a whirling griot dervish, an Arabic oral ruba'iyat linking climate change and the oppression of women, a military brat at the food of the Rockies, and anthropomorphized creatures that morph into a love song that renders queer lives both vulnerable and endearing.
Rooster, Dog, Crow by Jim Nason
Night Flying by Laurie Fuhr
Nouveau Griot by Tanya Evanson
Ruba'iyat for the Time of Apricots by Basma Kavanagh
By Tyler B. PerryAnyone who has been through school in the past half-century has experienced poetry in the form of the multiple-choice reading comprehension test. Tyler Perry's latest collection engages in dialogic, deconstructive play with this familiar format, using...