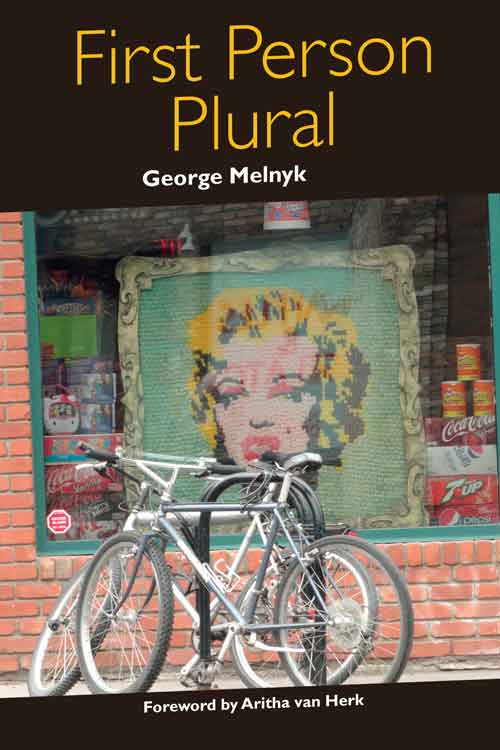 | | |
| --- | --- |
| ISBN # | 9781927823422 |
| Author | George Melnyk |
| Pages | 228 |
| Size | 6 x 9 inches |
| Binding type | Soft Cover with Flaps |
| Release Date | November 25, 2018 |
| Price CAD$ | $19.95 |
First Person Plural by George Melnyk is a collection of essays on the subject of identity and self-image. The book begins with the author's personal memoir as a Canadian of Ukrainian heritage who arrived in Canada from a "displaced person" camp after the war. It also studies similar questions of identity and image as they affect other persons, including the Serbian-Canadian novelist David Albahari, artists Natalka Husar and Marie Elyse St. George, and Leonard Cohen. Other essays deal with the bombing of Hiroshima as portrayed by Japanese manga comic books, and the perception and image of movie stars like Marilyn Monroe. Numerous photographs complement the essays.
A seasoned essayist, George Melnyk has returned to the form with a flourish. Essay is his ideal genre. From the French, "essayer," to try, it provides the same pleasures as the short story – pithiness, reverberating in ambiguity. After all, no one is ever guaranteed certainty of outcomes from one's "trials."
While Melnyk has always deployed the first person singular pronoun as a narrator, in First Person Plural he invites his readers to encounter him (in his encounter with artistic, literary and cinematic projections) as a plurality of persons (for which he devises a clever taxonomy, variations on "person").
Recently, such writers as Lorna Crozier, Sue Olding, Myra Coulter and Jane Silcott have turned to the essay in the form of intensely personal, even interior, narratives. Melnyk's essays, by contrast, contain multitudes, as he juggles public, social, private and secret selves in relationship with the desired "other." But the main effect is of a cross-examination of the personae that constitute an autobiography, which he now makes public.
There's no going back for Melnyk: "Publication," said Marshall McLuhan somewhere, "is the self-invasion of privacy."
This collection of essays, a meditative, unusual album which focuses on images and their affect, is again surprising for how it connects characters as disparate as Marilyn Monroe and Leonard Cohen with George himself, who recurs as a persona in the discussion and discovery of how images project and protect identity. …. The book's epigraph, by Gabriel Garcia Márquez, declares, "Everyone has three lives: a private life, a public life and a secret life." True enough, but George Melnyk has three more: a visual life, a textual life, and a visionary life; and these writings throw his projections onto the shadowed screen of individuality and community.

The most interesting and effective motif recurring in these essays is the coded conflictedness of Melnyk's Ukrainian roots, his admission that he is part of a triple diaspora, and thus has been pulled in multiple directions. He says, "My escape into western Canadian identity was a conscious way of avoiding the problematic past and its ongoing iterations in contemporary Ukraine." This "hiding/revealing" informs both the content and the approach of the different commentaries here, all of them coloured through his projection of the personal. He confronts directly why he for a long time repressed his Ukrainian heritage and the effect his family's displacement and migration has had on his choices and his intellectual enthusiasms. His sense of being an outsider, "of being ashamed of who one was," delineates the profound reverberation of subtle alienations.
These essays are written with Melnyk's straightforward style, his bluntness both unusual and disarming…He is best when he is personal, when he looks intimately at those images that compel our attention, whether they are photographs of Marilyn Munroe or of himself as an infant. "Melnyk, Urii Roman," his identity as a stateless refugee on his way to Canada, is a powerful platform from which to investigate George Melnyk's fascination with art and image, the play of history and fiction. These essays are most compelling when they explore the particular, when they dare to investigate what matters to an individual and his reading of himself, naked or not. His declared ambition, that he would like to be "recognized," speaks to the past's influence on our spectatorship and acceptance of who we become.
In these essays, George Melnyk performs a metamorphosis worthy of Ovid, always inventing a new mutability and a new escape. In his projection of the personal, he succeeds again in hiding, living that Kroetsch line of "unhiding the hidden" even while he dons another disguise. He says, "The essays hold up a mirror to different parts of me—my ethnic self, my artistic self, and my new regional self. When I combine them into a single self I become the kind of western Canadian I am today." His yearning to imprint himself "onto a known geography" ventures into the unknown with a journey that collapses the familiar and the strange, and that engages with both known and alien geographies. He becomes the "kind of western Canadian" who embodies then our doubts and our determination, our archive and our aspiration. And what could be better than that?
Melnyk's essays reveal himself as a refugee in Canada who repressed his Ukrainian heritage, his artistic self who is fascinated with art and image and his new regional self experimenting with history and fiction.
His identity as a stateless refugee on his way to Canada is a powerful platform from which to investigate George Melnyk's fascination with art and image, the play of history and fiction.
How to order this book
Our books are available through Alpine Book Peddlers, Amazon and, to a lesser degree, Chapters/Indigo. Or you can make a request at your local bookseller. Alpine can be reached at 1-866-478-2280, or click the link below to order. Discounts are available for bulk orders.
Quartet 2018 Launch in Calgary
Join us for the launch of Quartet 2018 at the new Calgary Library.
Our authors for 2018 are a diverse group whose work variously evokes images of a whirling griot dervish, an Arabic oral ruba'iyat linking climate change and the oppression of women, a military brat at the food of the Rockies, and anthropomorphized creatures that morph into a love song that renders queer lives both vulnerable and endearing.
Rooster, Dog, Crow by Jim Nason
Night Flying by Laurie Fuhr
Nouveau Griot by Tanya Evanson
Ruba'iyat for the Time of Apricots by Basma Kavanagh
By Tyler B. PerryAnyone who has been through school in the past half-century has experienced poetry in the form of the multiple-choice reading comprehension test. Tyler Perry's latest collection engages in dialogic, deconstructive play with this familiar format, using...