Edited by Micheline Maylor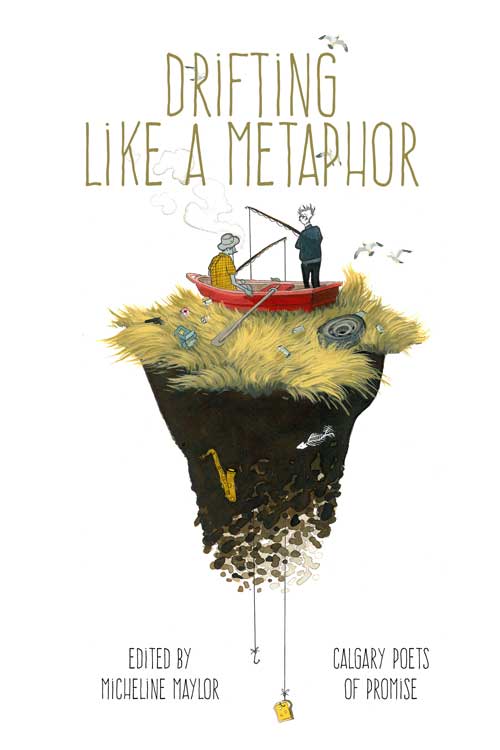 | | |
| --- | --- |
| ISBN # | 9781927823804 |
| Author | Micheline Maylor, ed. |
| Subject | POETRY / Canadian, Anthologies |
| Pages | 152 |
| Size | 6 x 9 inches |
| Binding type | Soft Cover |
| Release Date | May 15, 2018 |
| Price CAD$ | $19.95 |
Micheline Maylor's anthology, Drifting Like a Metaphor, introduces Calgary poets who have the ability to make connections that work to pull together language, image, and emotion. Her criteria was that the poets are not yet published in book form, but are able to make story and voice work to create an emotional reaction through many forms and styles. We hope readers will agree that any of the twelve poets showcased in this anthology could easily become the next great voice or future poet laureate of Calgary.
Dr. Micheline Maylor was Poet Laureate of Calgary from 2016 until April 2018. Micheline attained her Ph.D. at the University of Newcastle Upon Tyne in English Language and Literature with a specialisation in Creative Writing and 20th Century Canadian Literature. She teaches Creative Writing at Mount Royal University in Calgary where she won the 2015 Teaching Excellence Award, and was short-listed for the Robert Kroetsch award for experimental poetry. She is a University of Calgary Senator, a Tedx talker, a Walrus talker, and she was the Calgary Public Library's Author in Residence (2016). Micheline serves as Poetry Editor at Frontenac House Press. She is the co-founder of Freefall Literary Society and remains a consulting editor. Her most recent book Little Wildheart (U of A Press, 2017) was long listed for both the Pat Lowther and the Raymond Souster Awards.
Cobra Collins, Tyler Engström, Sarah Howden, Dale Lee Kwong, Beck Mackenzie Paterson, Carley Mascher-Mayson, Shelley McAneeley, Susan Plett, Logan Pollon, Sasha Semenoff, Matt Sutton, Alex Williamson .
How to order this book
Our books are available through Alpine Book Peddlers, Amazon and, to a lesser degree, Chapters/Indigo. Or you can make a request at your local bookseller. Alpine can be reached at 1-866-478-2280, or click the link below to order. Discounts are available for bulk orders.
Quartet 2018 Launch in Calgary
Join us for the launch of Quartet 2018 at the new Calgary Library.
Our authors for 2018 are a diverse group whose work variously evokes images of a whirling griot dervish, an Arabic oral ruba'iyat linking climate change and the oppression of women, a military brat at the food of the Rockies, and anthropomorphized creatures that morph into a love song that renders queer lives both vulnerable and endearing.
Rooster, Dog, Crow by Jim Nason
Night Flying by Laurie Fuhr
Nouveau Griot by Tanya Evanson
Ruba'iyat for the Time of Apricots by Basma Kavanagh
By Tyler B. PerryAnyone who has been through school in the past half-century has experienced poetry in the form of the multiple-choice reading comprehension test. Tyler Perry's latest collection engages in dialogic, deconstructive play with this familiar format, using...