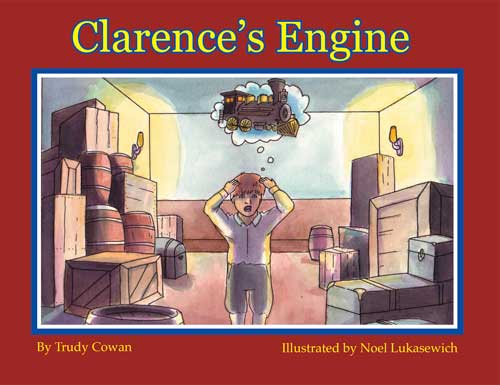 | | |
| --- | --- |
| ISBN # | 9781897181003 |
| Author | Trudy Cowan |
| Pages | 32 |
| Size | 11 x 8.5 inches |
| Binding type | Soft Cover |
| Release Date | August 1, 2005 |
| Price CAD$ | $14.95 |
When Senator Lougheed moves his family to their new sandstone house in 1891, six- year-old Clarence loses his favourite toy train. Through the engaging story of his search, and vivid full colour illustrations, the reader explores the beautiful, historic Lougheed House, and also learns a great deal about life in the frontier town of Calgary.
Visit the Lougheed House website to read more about this famous building, to find out about school tours and to participate in ongoing events.
Trudy Cowan arrived in Calgary in June 1966 and experienced "white stuff" on the ground every month for the first full year. Despite the weather, she is still here and loves her chosen city. Writer, teacher, and mentor, she has been head of educational programming for the Glenbow Museum; curator/director of Fort Calgary while the abandoned railway yard was transformed into an historic park and interpretive centre; executive director of the Alberta Historical Resources Foundation providing guidance to heritage conservation projects throughout the province; and a cultural consultant primarily dealing with museums, heritage conservation and historic site development and interpretation. Trudy Cowan's interests in history and theatre came together in the creation of one-woman stage "In-person-ations" of significant Canadian women – Nellie McClung and Emily Carr – that she has performed on stages in BC, Alberta, Manitoba and Ontario. In addition to serving on a variety of other local (Calgary Heritage Advisory Board, Chinook Country Historical Society), provincial (Alberta Museums Association, Historical Society of Alberta) and national (Canadian Museums Association, International Council of Museums in Canada) boards, Trudy Cowan was the Alberta member of the Historic Sites and Monuments Board of Canada for 14 years and Alberta governor of the Heritage Canada Foundation for 6 years, including 2-years as its chair. She has written and spoken extensively about heritage conservation, and has been part of the efforts to preserve and inform the public about Calgary and Canadian historic architecture. Her main commitment since 1988, however, has been to coordinate the community effort to restore Lougheed House, efforts that have created a public heritage centre at this National Historic Site, scheduled to open in May 2005. She has received numerous awards for her heritage activities, including the Canada 125 Medal, and recognition from the Heritage Canada Foundation and Historical Society of Alberta. In 2003, the University of Calgary presented Trudy Cowan with an Honorary Doctorate for her work in the heritage field.
About the Illustrator
Noel Lukasewich is a graduate of the Alberta College of Art and Design, with a major in Visual Communications. He is native to Calgary, but now lives in Edmonton.
This book is most suitable for children in Grade 3 or 4 who can compare their present experience with the author's carefully researched description of a move at the end of the 19th century. Teachers with students of that age will enjoy using it in their classrooms. Parent and grandparents might read it with grandchildren to begin a conversation about ways Alberta and the world has changed in the last century.
How to order this book
Our books are available through Alpine Book Peddlers, Amazon and, to a lesser degree, Chapters/Indigo. Or you can make a request at your local bookseller. Alpine can be reached at 1-866-478-2280, or click the link below to order. Discounts are available for bulk orders.
Quartet 2018 Launch in Calgary
Join us for the launch of Quartet 2018 at the new Calgary Library.
Our authors for 2018 are a diverse group whose work variously evokes images of a whirling griot dervish, an Arabic oral ruba'iyat linking climate change and the oppression of women, a military brat at the food of the Rockies, and anthropomorphized creatures that morph into a love song that renders queer lives both vulnerable and endearing.
Rooster, Dog, Crow by Jim Nason
Night Flying by Laurie Fuhr
Nouveau Griot by Tanya Evanson
Ruba'iyat for the Time of Apricots by Basma Kavanagh
By Tyler B. PerryAnyone who has been through school in the past half-century has experienced poetry in the form of the multiple-choice reading comprehension test. Tyler Perry's latest collection engages in dialogic, deconstructive play with this familiar format, using...