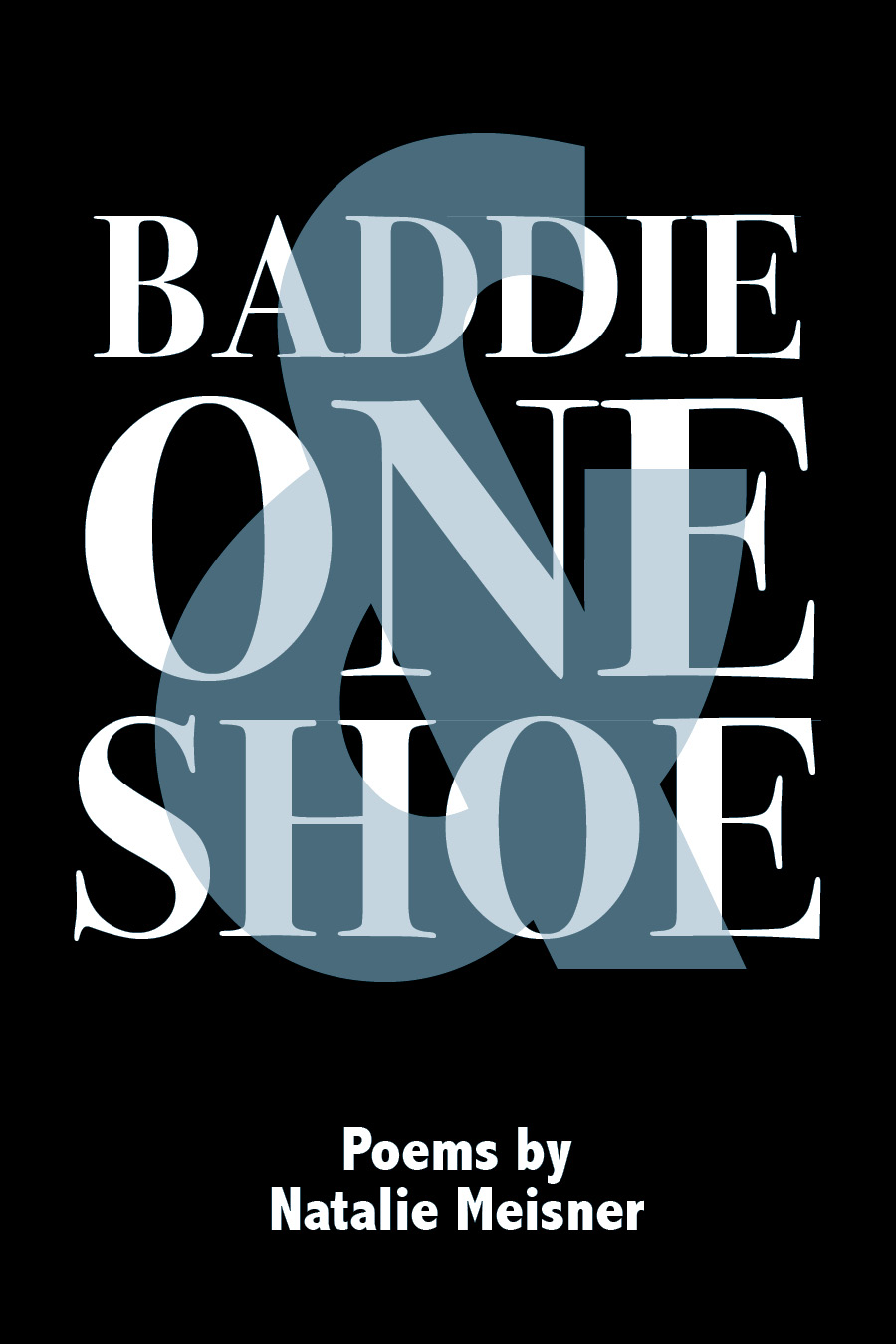 | | |
| --- | --- |
| ISBN # | 9781927823965 |
| Author | Natalie Meisner |
| Pages | 100 |
| Size | 6 x 9 inches |
| Binding type | Soft Cover with Flaps |
| Release Date | September 16, 2019 |
| Price CAD$ | $19.95 |
You know that voice in your head that cuts through it? Does the ill-advised thing in the name of hard won fun? The friend who finishes the bottle with you that needs finishing, stays till closing, holds your hair out of the way if needed? The Tough bitch who rescues you in a broken down car.  The dyke who takes a punch. The queer who takes down the hypocrite, speaks truth to power, let the chips fall where they may? The working class kid who sees the damned un-level playing field and plays anyway? Takes one for the team? Sets the score card on fire and warms her hands over the glow? Her name is BADDIE ONE SHOE… she's been here all along as you got on with life, did the work things, made a nest and had a family… she's bided her time and now she wants out.    
Natalie Meisner is a widely produced author of stage plays and award winning multi-genre writer.  Her nonfiction book: Double Pregnant: Two Lesbians Make a Family (Fernwood) was a finalist in the Atlantic Book Awards. SPEED DATING FOR SPERM DONORS was a hit at Lunchbox and Neptune and will be available from Playwright's Canada Press (forthcoming). She is at work on several new plays as well as her first children's book, My Mommy, My Mama, My Brother and Me(Nimbus,2020). Natalie is a wife and mom to two great boys and a Professor Department of English at Mount Royal University working in the areas of creative writing, drama, gender/sexuality studies. (www.nataliemeisner.com)
Sitting in the Tate Modern
(For Baddie Kahlo)
Sitting in the Tate Modern 
thinking of your hands hips & ribs 
the pins in them
How the metal must ache even in desire 
& ochre is color fused with pain 
However thoughts flew through the air then
what love was to you or desire 
to a body that spent so much time 
on her back
& when you got up colours flew in the 
demanding sexual heel stamp of the dance 
When you took up the bodies all the bodies your own & others
stared death down & drank & fought & fucked till dawn, 
pins & metal & failing body bedamned 
How hot you danced 
fucked him & her with mind & body 
with all you had 
kicking through the pain in your body 
bottoms up – dancing till dawn drinking them all under the table. 
Still the obit wants to read: 
Wife of the Great One.  
& I think as I sit here in the Tate Modern 
of your hands how they flew 
of your brow knit in gorgeous righteous rage 
the angle of your elbow as you tossed back the shot. 
& your hands
spliced & diced as words fly though the ether
electronically
we call it text when there is none
futures forged sutures burst so easily 
deleted just as 
these fragments are 
what can they teach us 
future civilizations 
will find no fossils of love & desire
bouncing triple dots
… hang, think then 
hit delete 
We look for footing the best opening 
draft & redraft the opening
we begin 
we begin 
again
How to order this book
Our books are available through Alpine Book Peddlers, Amazon and, to a lesser degree, Chapters/Indigo. Or you can make a request at your local bookseller. Alpine can be reached at 1-866-478-2280, or click the link below to order. Discounts are available for bulk orders.