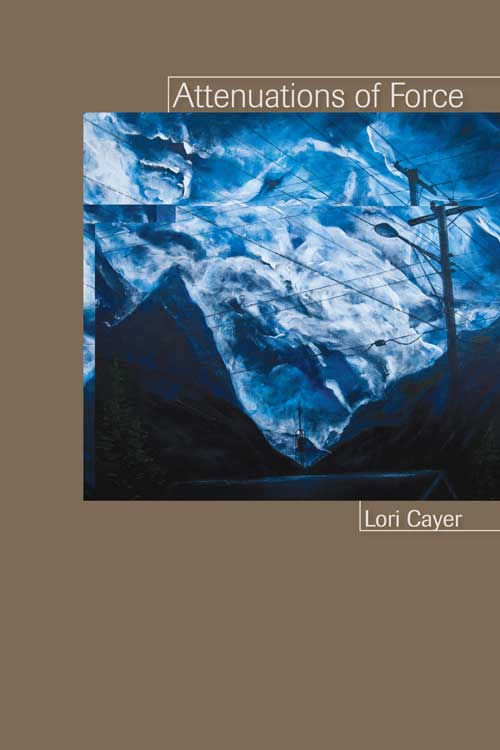 | | |
| --- | --- |
| ISBN # | 9781897181317 |
| Author | Lori Cayer |
| Pages | 96 |
| Size | 6 x 9 inches |
| Binding type | Soft Cover |
| Release Date | April 1, 2010 |
| Price CAD$ | $15.95 |
Attenuations of Force is the second full-length book from one of Canada's unique lyric poets. She brings her angular and exacting vision to considerations of mortality and bodily trauma, emotional extremes.
What the unwary or new reader of Cayer will find in Attenuations of Force is, among other matters, a harrowing cross-species pity generated from watching a dead pigeon decay on a nearby rooftop; the intimately rendered mishaps of trying out drugs that are not in positive compliance with the taker's neurology; what it's like to be nearly swept up into a tornado while standing in the flats nearby trying to take photographs of it; and care-taking one's grandmother into her dying.
Shortlisted for Manitoba Book Award
Lori Cayer's first book Stealing Mercury (The Muses' Company) won the Eileen McTavish Sykes Award and was a finalist for the McNally Robinson Book of the Year Award. She is a past winner of the John Hirsch Award for Most Promising Manitoba Writer. Lori is the co-founder of the Aqua Books Lansdowne Prize for Poetry/prix Lansdowne de poésie.
poems that touch down with tender inquisition, making peace in the aftermath of life's many storms. From childbirth, failed relationships and abandoned dwellings, Attenuations of Force shows us how "that which we choose to celebrate, makes us.
Lori Cayer's Attenuations of Force does fun things with both typography and science.
Her lyrics show that she is a consummate explorer of different forms of verse and registers of language. She strikes few false notes; indeed, she conjoins marvelously everyday diction plus special words born from unique circumstances or of distinct communities. So, a lover's "opened eyes descend the shearing lines of her lip's / vermillion ridge," and fairly orthodox words win surprise thanks to the luminous freshness of "shearing" and "vermillion."….Cayer wants to try—and seems able to do—practically everything.
Attenuations of Force is a collection that commands our attention. Unnerving and charming in turns and at all points, linguistically supple, Cayer's fierce, unflinching poems of selves made and unmade, of postmodern lusts and blind faith, will torque your brain around. Whether Cayer is mapping a weather that "drums your body apart" or riffing off a neo-gothic Jeff Goldblum morphing into a fly, her poetic altered states and stated alterations will dazzle you. No question, Cayer means business."
Lori Cayer's poetry soars and dives among tempests of desire, death, love and loss, pulling readers/listeners into the vortex of the storm and leaving us breathless in its aftermath. Her poems are merciless in their hunt for prey, from domestic minutia to the fluid flow of maelstroms. A father's knife "so thin it hums in the hand." A tornado pulling a ponytail into "whirligig, exclamation point, drill bit, blender. Attenuations of Force is tremor and aftershock, a howl into the wind, an unzipping of language.
This collection is framed by two powerful elegies – one, unexpectedly, for a dead pigeon and the other for a deeply loved human being. The work is informed throughout by an understanding of science and biology, the physical grounding of life transformed into poem. These lyrics are not just poems; they are exemplary. Language is lifted up, then returned to us as harmonized image and music.
How to order this book
Our books are available through Alpine Book Peddlers, Amazon and, to a lesser degree, Chapters/Indigo. Or you can make a request at your local bookseller. Alpine can be reached at 1-866-478-2280, or click the link below to order. Discounts are available for bulk orders.