And God Created Manyberries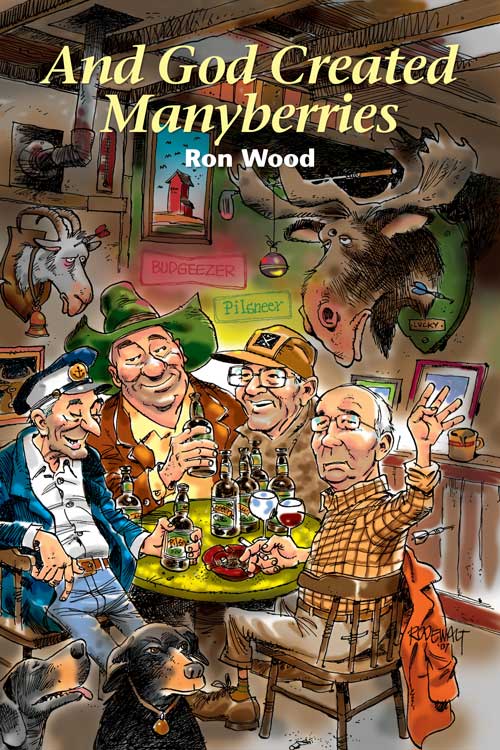 | | |
| --- | --- |
| ISBN # | 9781897181157 |
| Author | Ron Wood |
| Pages | 191 |
| Size | 6 x 9 inches |
| Binding type | Soft Cover |
| Release Date | July 10, 2007 |
| Price CAD$ | $19.95 |
A bunch of old-timers are sitting around drinking beer in The Ranchmen's Saloon in the tiny hamlet of Manyberries complaining about taxes and the government. But first impressions are deceptive. This is not mere tavern talk – these are some of the sharpest political commentators anywhere. Listen closely and you'll find scalpel-sharp dissections of double-talk, political correctness, hypocrisy and lazy thinking. Nobody is spared: inept and uncaring governments, both federal and provincial; self-serving politicians demanding credit and glory without having earned it; everyday guys who always want more than their share and more than they give; and members of the media whose stock in trade is trivia at the expense of real news. The result is a refreshing antidote to political correctness, sloppy thinking and lazy journalism.
As the Leacock jury said about And God Created Manyberries when it was short listed for the Stephen Leacock Memorial Award for Humour: "With sharp wit, bold characterization and a keen eye for observing what is important – and funny – to Canadians, Ron Wood once again caricatures the political leadership and the small town foibles of this country. Sounds rather Leacock-ian doesn't it?
Ron Wood has been a member of the Parliamentary Press Gallery; television anchorman; federal communications bureaucrat; News Director for CKXL and CHFM Radio in Calgary (winning several regional and national radio awards, including the prestigious National Radio Award for Best Opinion/Commentary Broadcaster); Press Secretary to Preston Manning, Leader of the Reform Party; and EA/Communications Advisor to Opposition Leader John Reynolds. He also handled special communications assignments for Stephen Harper when Mr. Harper was Leader of the Opposition.
Ron Wood blogs as Ramblin' Ron Wood at http://ronwood.frontenachouse.com/.
This book will leave Canadians – but most especially our so-called 'leaders' – howling. Some with laughter, others with indignation.
Like an episode of Corner Gas or a story from Stuart McLean's Vinyl Café, Manyberries is small-town Canada in all its glory. It's an entertaining read.
A veteran of the media and political wars, Ron Wood has put his sharp wit and astute observation skills into this clever collection of stories. It's an amusing read from a guy who has combined humour and satire like no one else."
Awards and Nominations
Shortlisted: Howard O'Hagan Award for Short Fiction
Shortlisted: Stephen Leacock Memorial Medal
How to order this book
Our books are available through Alpine Book Peddlers, Amazon and, to a lesser degree, Chapters/Indigo. Or you can make a request at your local bookseller. Alpine can be reached at 1-866-478-2280, or click the link below to order. Discounts are available for bulk orders.
Quartet 2018 Launch in Calgary
Join us for the launch of Quartet 2018 at the new Calgary Library.
Our authors for 2018 are a diverse group whose work variously evokes images of a whirling griot dervish, an Arabic oral ruba'iyat linking climate change and the oppression of women, a military brat at the food of the Rockies, and anthropomorphized creatures that morph into a love song that renders queer lives both vulnerable and endearing.
Rooster, Dog, Crow by Jim Nason
Night Flying by Laurie Fuhr
Nouveau Griot by Tanya Evanson
Ruba'iyat for the Time of Apricots by Basma Kavanagh
By Tyler B. PerryAnyone who has been through school in the past half-century has experienced poetry in the form of the multiple-choice reading comprehension test. Tyler Perry's latest collection engages in dialogic, deconstructive play with this familiar format, using...