A Brush With Depth: The Art of Rick Sealock
By Rick Sealock and Christina Vester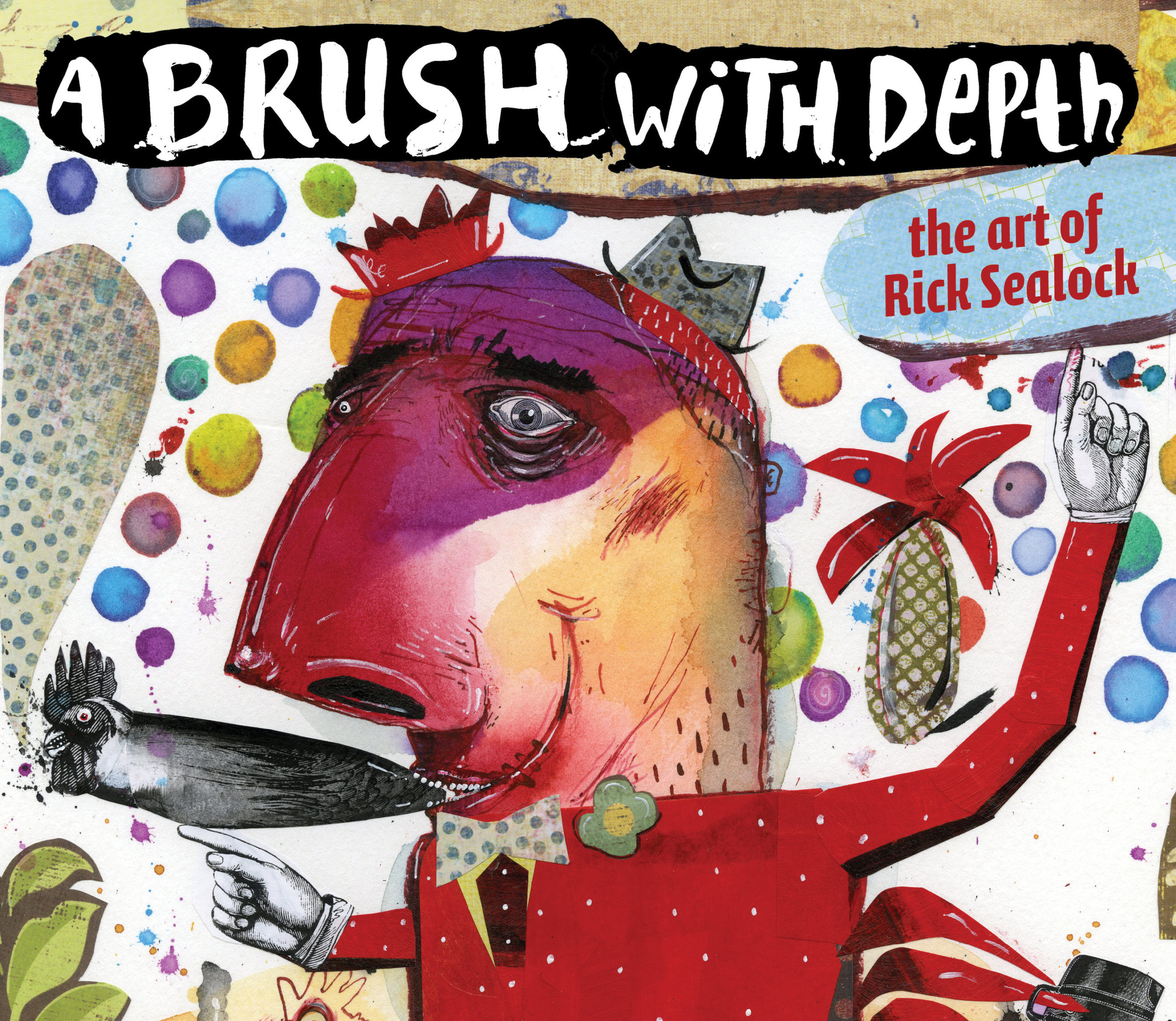 | | |
| --- | --- |
| ISBN # | 9781927823699 |
| Author | Rick Sealock and Christina Vester |
| Pages | 241 |
| Size | 9.5 x 8.25 inches |
| Binding type | Soft Cover with Flaps |
| Release Date | April 15, 2019 |
| Price CAD$ | 35 |
Production details are not yet finalized, so the above information may change.
Rick Sealock has been creating wild and wacky illustrations for clients as varied as Rolling Stone, Texas Monthly, The Washington Post, Natural Health Magazine, and GQ Magazine. His work has been used to skewer politicians, fitness fanatics, and death. This book, while a retrospective of his life in illustration, is also a how-to guide. How to keep your work fresh. How to deal with pesky and not so pesky clients. How to keep yourself in front of those clients. How to… just buy the book, don't go by the book.
Hi there little buckaroo. My history: I grew up in the wilds of Southern Alberta on a farm. I drew a lot. I also dug holes in the ground to see where they would go. I graduated from the Alberta College of Art and Design. Then I taught there. I did a lot of illustrations. Then I taught at the Ontario College of Art and Design and Sheridan College of Art and Design. I am still teaching at the latter. And I am still doing lots of illustrations!
Make sure your eyeballs are securely nailed down before you open this book, or the fizz and frenzy of Rick Sealock's art might pinwheel 'em right outta your face. Thus warned, you can now open this book. Herein you'll find pure je ne sais Sealock: with their flash-bang colors, unfailing conviviality, and delirious, frame-busting muchness, these are works of singular optic nerve and sheer joy. So open this book already!

 ~ 

Scott Dickensheets, Desert Companion Magazine (Las Vegas, Nevada)
There is a Rick Sealock drawing on the wall above me, blaring joyously night and day. It is a multi-fingered jazz trumpeter, making musical magic to the accompaniment of birds, mayhem, and marks of explosive randomness.  It's a perfect embodiment of the creative process: order out of chaos and back again.  Such is but a taste of what you will experience if you buy this book.  And I strongly suggest that you do.

~

 Blair Drawson, Illustrator (Toronto, Ontario)
How to order this book
Our books are available through Alpine Book Peddlers, Amazon and, to a lesser degree, Chapters/Indigo. Or you can make a request at your local bookseller. Alpine can be reached at 1-866-478-2280, or click the link below to order. Discounts are available for bulk orders.