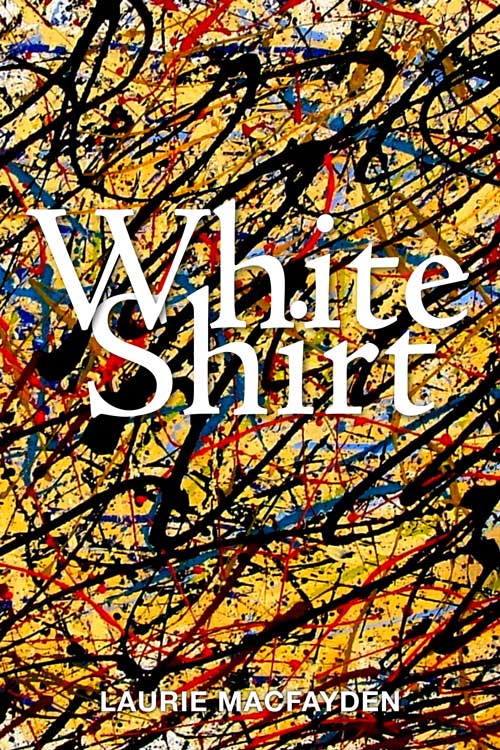 | | |
| --- | --- |
| ISBN # | 9781897181409 |
| Pages | 80 |
| Size | 6 x 9 inches |
| Binding type | Soft Cover |
| Release Date | April 1, 2010 |
| Price CAD$ | $15.95 |
Laurie MacFayden navigates love, longing, lust and loss with deft wordplay and disarming wit, plumbing our most intimate relationships – those entwining family, friends, lovers and exlovers. Her rich imagery, combined with an ability to locate the extraordinary in the everyday, results in poems that range from playful to poignant as she celebrates the complexities of the human heart. In this debut collection, best friends scream downhill on their ten-speed bikes; a tree planter spells out her lover's name in seedlings; and a mysterious entity steps out of the mist in Stanley Park. The author contemplates how best to seduce Joan of Arc and goes on an abstract-expressionist date with Jackson Pollock. Like the white shirt in the title, these poems are crisp, seductive and a little bit sweaty.
Awards/Nominations
Winner: 2011 Golden Crown Literary Award for Poetry
Shortlisted –  Annual Lambda Literary Awards>
Laurie MacFayden grew up in southern Ontario and has lived in Edmonton since 1984. She spent 30 years as a sports journalist, most recently at the Edmonton Journal. She left the news media in June 2007 to focus on her own writing and visual arts projects. This is her debut collection of poetry.
A painter, photographer and avid traveller, Laurie is a frequent performer on the Raving Poets' open-mic stage in Edmonton. She is a member of the Writers Guild of Alberta, Edmonton's Stroll of Poets, the Edmonton Arts Council and the Visual Arts Alberta Association. She blogs at http://spatherdab.wordpress.com and her art lives at http://www.lauriemacfayden.com.
Laurie MacFayden's White Shirt is the sort of garment that appeals and reveals far more than it conceals. Love, longing, loss and desire drip and swirl like the poet's own Pollock-inspired cover art. Simple strategies work well here: the Tower-of-Babel adjectival pileup that describes one babelicious mouth in 'dear life' leads into other catalogues and accumulations throughout the book. Once in a while, as in 'the knowing,' the lusty shout turns reflective and insightful.
at home in the canon of Canadian lyricism.
Her work is ejaculations, vivid, colourful, clashing, all indelibly marking the white page.…There's mucho — even macho — passion here. …White Shirt is a fine collection — especially recommended for readers who usually ignore poetry.
This is the "classic" hard-drinking, hard-living, gravelly poet's voice – only it comes from a woman. It's a bust-out-of-the-closet voice where occasional touchstone rhymes and furious lists score the page. The poems are stripped down, poignant, exact, and as heartily playful as any serious blues. Here is Sappho crossed with the Supremes.
when i first heard laurie macfayden read in edmonton, it was obvious she was a cut above the pack of poets waiting for their turn to be heard. she's a drag queen in a pink limousine, journalist of whyte ave & the two-lane world, an important lady in an important time.
Laurie MacFayden is one of my favourite poets. Her poems vibrate with a sensorial precision that never fails to capture. From a wild date with Jackson Pollock, to poems of longing and desire, to clear-eyed rants on sexuality, she does what all great writers do – that is, she shines her incredible, unique light on what it is to be human. MacFayden pushes at the darkness with her poetry – she titillates, teases, intrigues and entertains – and I hope she keeps doing it for a very, very long time.
How to order this book
Our books are available through Alpine Book Peddlers, Amazon and, to a lesser degree, Chapters/Indigo. Or you can make a request at your local bookseller. Alpine can be reached at 1-866-478-2280, or click the link below to order. Discounts are available for bulk orders.
Quartet 2018 Launch in Calgary
Join us for the launch of Quartet 2018 at the new Calgary Library.
Our authors for 2018 are a diverse group whose work variously evokes images of a whirling griot dervish, an Arabic oral ruba'iyat linking climate change and the oppression of women, a military brat at the food of the Rockies, and anthropomorphized creatures that morph into a love song that renders queer lives both vulnerable and endearing.
Rooster, Dog, Crow by Jim Nason
Night Flying by Laurie Fuhr
Nouveau Griot by Tanya Evanson
Ruba'iyat for the Time of Apricots by Basma Kavanagh
By Tyler B. PerryAnyone who has been through school in the past half-century has experienced poetry in the form of the multiple-choice reading comprehension test. Tyler Perry's latest collection engages in dialogic, deconstructive play with this familiar format, using...