There Goes The Neighbourhood – Short Stories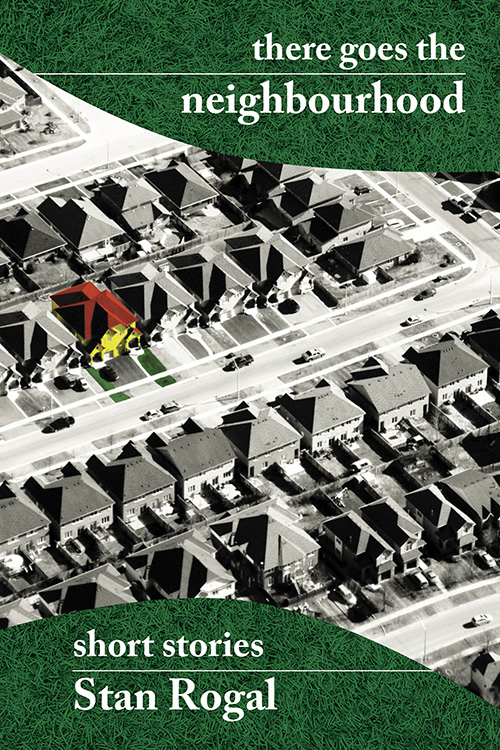 | | |
| --- | --- |
| ISBN # | 9781927823682 |
| Author | Stan Rogal |
| Pages | 132 |
| Size | 6 x 9 inches |
| Binding type | Soft Cover |
| Release Date | August 15, 2017 |
| Price CAD$ | $19.95 |
There Goes the Neighbourhood is a collection of ten dark-humoured stories that explore the urban setting and portray not only what might go on behind closed doors, but also in front. The stories are of mixed genre: realism, hyperrealism, magic realism, sci-fi, pomo, noir … with some attempt at genre-bending in particular cases, such as might be found in the works of Rod Serling, Julio Cortazar or Franz Kafka. The characters range from the lesser- to the more-educated and this interaction is most often reflected in the use of dialogue and discourse, ranging from the erudite to the profane. These are characters of acceptance. If life deals lemons, they rarely consider making lemonade. Rather, they accept what is given and try to make the best of a bad deal and hope for the best. A young couple is chastised by neighbours for fencing in their back garden. An older couple is offered a chance to earn money by shooting a porn video in their basement. An old voyeur spies on the actions of a lascivious mail deliverer. The results are generally more amusing than tragic.
Stan Rogal lives and writes in Toronto, Ontario. His work has appeared in numerous magazines and anthologies in Canada, the US and Europe, some in translation. He is the author of 21 books and a produced playwright.
How to order this book
Our books are available through Alpine Book Peddlers, Amazon and, to a lesser degree, Chapters/Indigo. Or you can make a request at your local bookseller. Alpine can be reached at 1-866-478-2280, or click the link below to order. Discounts are available for bulk orders.
Quartet 2018 Launch in Calgary
Join us for the launch of Quartet 2018 at the new Calgary Library.
Our authors for 2018 are a diverse group whose work variously evokes images of a whirling griot dervish, an Arabic oral ruba'iyat linking climate change and the oppression of women, a military brat at the food of the Rockies, and anthropomorphized creatures that morph into a love song that renders queer lives both vulnerable and endearing.
Rooster, Dog, Crow by Jim Nason
Night Flying by Laurie Fuhr
Nouveau Griot by Tanya Evanson
Ruba'iyat for the Time of Apricots by Basma Kavanagh
By Tyler B. PerryAnyone who has been through school in the past half-century has experienced poetry in the form of the multiple-choice reading comprehension test. Tyler Perry's latest collection engages in dialogic, deconstructive play with this familiar format, using...