The Grass Beyond the Door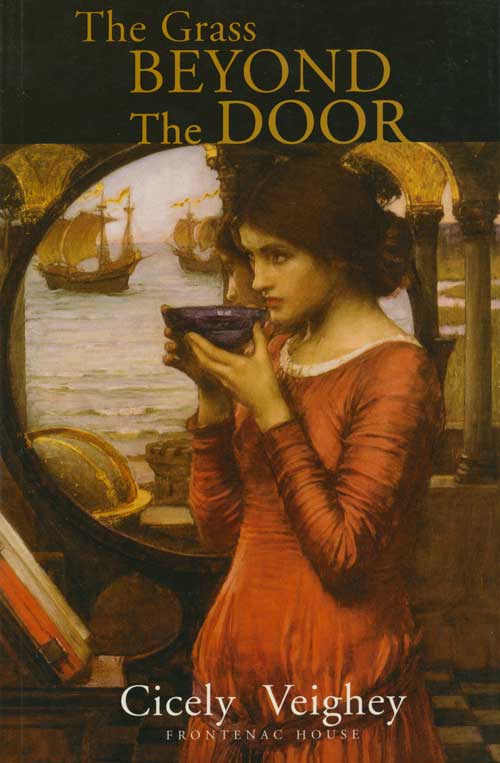 | | |
| --- | --- |
| ISBN # | 9780968490303 |
| Author | Cicely Adams Veighey |
| Pages | 208 |
| Size | 5.5 x 8.5 inches |
| Binding type | Soft Cover |
| Release Date | March 1, 1999 |
| Price CAD$ | $12.95 |
The Grass Beyond the Door is a novel based on a true story: Lucy Lightfoot was born in the early 19th Century on the Isle of Wight in the south of England. She was well known in her village for her extreme obsession with the 14th-century crusader Sir Edward Estur, whose carved effigy lay in St. Olave's Church in the village of Gatscombe.
On June 13, 1831, during the severest storm in the history of the Island, a lightning bolt struck the church shortly after Lucy had been observed going inside. Sir Edward's dagger was shattered, the jewel from its hilt was gone – and there was not a trace to be found of Lucy Lightfoot. For two years her grieving family searched for her, but she had vanished from the face of the earth. Her disappearance became a local legend, a mystery that would never be solved … until 34 years later, when a newly discovered 14th-century manuscript revealed an incredible story.
This is where The Grass Beyond the Door begins.
Cicely Adams Veighey spent her early childhood in the tiny seaside town of Yarmouth, Isle of Wight. Tales of smuggling, hauntings and magnificently heroic shipwreck rescues – the stuff of local legend – inspired endless games of pirates, Roundheads and Cavaliers, and smugglers and coast guards, played on the beaches, on the commons or, during inclement weather, in the dungeons of Henry VIII's old castle. She married David Veighey, a Northern Irishman, in 1937. After his discharge from the army in 1948 they emigrated from Ulster to Canada with their three small children and settled in Windsor, Ontario
A very good book. It gets better each time you read it.
The Grass beyond the Door is an enchanting book. I suppose it would be classified as historical romance, but it has an originality and a breadth that make it special. I was particularly struck by the lively and natural dialogue flavoured with dialect, foreign and ancient words yet always seeming to come from living and credible human beings. Another delight are the insights into domestic and social life of a distant past. What a great amount of research must have gone into all that.
The story Veighey weaves is entertaining and historically correct. Her writing style flows and keeps one turning the pages.
How to order this book
Our books are available through Alpine Book Peddlers, Amazon and, to a lesser degree, Chapters/Indigo. Or you can make a request at your local bookseller. Alpine can be reached at 1-866-478-2280, or click the link below to order. Discounts are available for bulk orders.
Quartet 2018 Launch in Calgary
Join us for the launch of Quartet 2018 at the new Calgary Library.
Our authors for 2018 are a diverse group whose work variously evokes images of a whirling griot dervish, an Arabic oral ruba'iyat linking climate change and the oppression of women, a military brat at the food of the Rockies, and anthropomorphized creatures that morph into a love song that renders queer lives both vulnerable and endearing.
Rooster, Dog, Crow by Jim Nason
Night Flying by Laurie Fuhr
Nouveau Griot by Tanya Evanson
Ruba'iyat for the Time of Apricots by Basma Kavanagh
By Tyler B. PerryAnyone who has been through school in the past half-century has experienced poetry in the form of the multiple-choice reading comprehension test. Tyler Perry's latest collection engages in dialogic, deconstructive play with this familiar format, using...