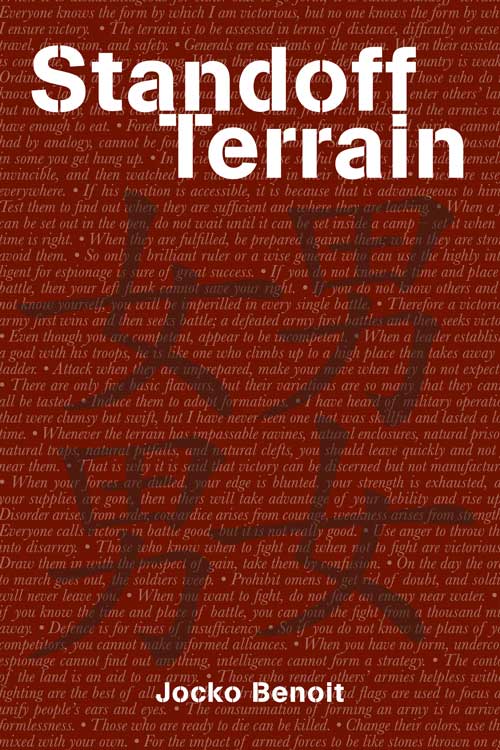 | | |
| --- | --- |
| ISBN # | 9781897181393 |
| Pages | 80 |
| Size | 6 x 9 inches |
| Binding type | Soft Cover |
| Release Date | April 1, 2010 |
| Price CAD$ | $15.95 |
Standoff Terrain takes its inspiration from Sun Tzu's The Art of War. It is a book of love poems for losers, and since almost everybody has lost at love… well, this book is probably for you. In the end, these poems are about how power – and lack of power – affect who and why we love.
Jocko Benoit was born in Montreal and raised in Cape Breton, and explored the rest of Canada one university at a time until arriving in Edmonton, where he lived as a poetic marauder with the Stroll of Poets. He has written one collection of poetry, An Anarchist Dream, and his poems have appeared in magazines in Canada, the U.S., England and Australia. His stories have appeared inOn Spec and Tesseracts. His screenplays have been shortlisted in competitions in Canada and the U.S. He divides his time between Calgary and Washington, DC.
ambitious…Edmonton poet Jocko Benoit's Standoff Terrain is a book of cheeky love poems inspired by Sun Tzu's The Art of War
Reading Benoit is like reading a more erudite version of the U.S. barfly-poet Charles Bukowski (1920-94). There's the same tone of Eros-weariness, but it is more elegantly expressed…. Anyone who has ever argued with a lover should appreciate Benoit's verses.
A guy looks for love in all the wrong places, but comes up with all the right lines. What happens when Sun Tzu's The Art of War meets the Indian erotic-religious text The Kama Sutra? Well, you get philosophical verse that's fun, frank, and funky.
In these fresh, candid poems, Jocko Benoit takes the high ideals of romance down to the streets. The republic of love is one hell of a battlefield, in Benoit's poems, but there's laughter here, too – Archie Bunker reading the Marquis de Sade is surely a "first" in Canadian poetry. And don't let Benoit's "loser-in-love" persona fool you – he doesn't wallow in self-pity. Rather, he's a wistfully humble student of the world, always willing to jump back into the pool even when he's hit bottom. A collection of admirable spirit and craft.
It's hard to imagine a new twist on the dating game, but Standoff Terrain offers boy-meets-girl as a war game. Conducted to the accompaniment of pithy sayings from Sun Tzu's The Art of War, Benoit's poems cover all the hope and disappointment, the explorations of compatibility and its absence, involved in the militant pursuit of love. As Benoit's would-be lovers attempt "to decide between love and / Independence", they encounter on the one hand practitioners of S & M or an emotional scorched earth policy, but on the other hand also stumble upon surprisingly tender moments. Benoit's wit and wry perspective keep the whole collection bubbling. The Art of War subtly reminds us that affairs of the heart, like affairs of the sword, have been a quintessential part of being human for eons. Benoit's stunning achievement is to make it fresh one more time.
How to order this book
Our books are available through Alpine Book Peddlers, Amazon and, to a lesser degree, Chapters/Indigo. Or you can make a request at your local bookseller. Alpine can be reached at 1-866-478-2280, or click the link below to order. Discounts are available for bulk orders.
Quartet 2018 Launch in Calgary
Join us for the launch of Quartet 2018 at the new Calgary Library.
Our authors for 2018 are a diverse group whose work variously evokes images of a whirling griot dervish, an Arabic oral ruba'iyat linking climate change and the oppression of women, a military brat at the food of the Rockies, and anthropomorphized creatures that morph into a love song that renders queer lives both vulnerable and endearing.
Rooster, Dog, Crow by Jim Nason
Night Flying by Laurie Fuhr
Nouveau Griot by Tanya Evanson
Ruba'iyat for the Time of Apricots by Basma Kavanagh
By Tyler B. PerryAnyone who has been through school in the past half-century has experienced poetry in the form of the multiple-choice reading comprehension test. Tyler Perry's latest collection engages in dialogic, deconstructive play with this familiar format, using...