Silent Sister: The Mastectomy Poems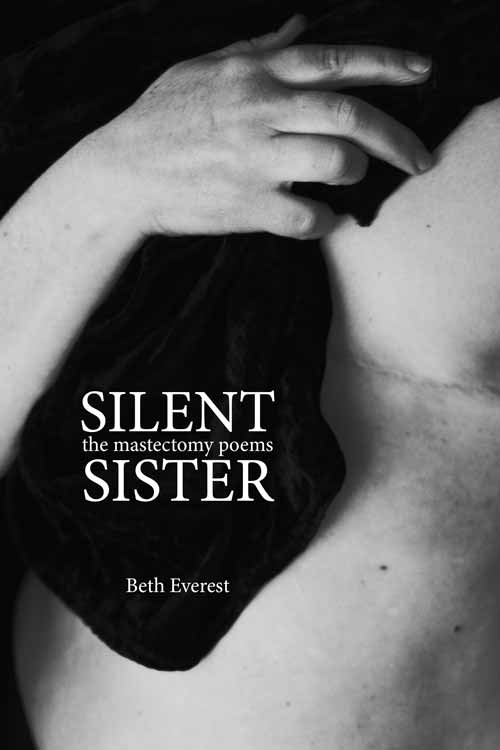 | | |
| --- | --- |
| ISBN # | 9781927823613 |
| Author | Beth Everest |
| Subject | POETRY / Canadian |
| Pages | 116 |
| Size | 6 x 9 inches |
| Binding type | Soft Cover with Flaps |
| Release Date | August 20, 2016 |
| Price CAD$ | $15.95 |
More than a narrative of breast cancer diagnosis and treatment, silent sister: the mastectomy poems bears witness to social and psychological impacts, for better or worse, of the altered body and mind. You enter the cave, and in it are fragments of truth, recollection, dream, hallucination, and birds. You laugh. You cry. You in•spire. And you breathe.
Beth Everest is a Calgary based writer whose poetry and fiction have been published in journals across the country. silent sister: the mastectomy poems is her second book of poetry.
Beth has won numerous awards for her work and her teaching. Most recently, her piece "this poem is about desire" was awarded the silver medal at the Alberta Magazine Publishers Association Awards (2014), and "hanging clothes" won second place in the 2013 Freefall Fiction Contest, judged by Patrick Lane.
Beth holds a Doctorate in Education, and a Master of Arts Degree from the University of Windsor where she had the notable honour of studying with the great story-tellers W.O. Mitchell and Alistair MacLeod.
Beth is an Associate Professor in the Department of English, Languages and Cultures at Mount Royal University, where she teaches Creative Writing.
How to order this book
Our books are available through Alpine Book Peddlers, Amazon and, to a lesser degree, Chapters/Indigo. Or you can make a request at your local bookseller. Alpine can be reached at 1-866-478-2280, or click the link below to order. Discounts are available for bulk orders.
Quartet 2018 Launch in Calgary
Join us for the launch of Quartet 2018 at the new Calgary Library.
Our authors for 2018 are a diverse group whose work variously evokes images of a whirling griot dervish, an Arabic oral ruba'iyat linking climate change and the oppression of women, a military brat at the food of the Rockies, and anthropomorphized creatures that morph into a love song that renders queer lives both vulnerable and endearing.
Rooster, Dog, Crow by Jim Nason
Night Flying by Laurie Fuhr
Nouveau Griot by Tanya Evanson
Ruba'iyat for the Time of Apricots by Basma Kavanagh
By Tyler B. PerryAnyone who has been through school in the past half-century has experienced poetry in the form of the multiple-choice reading comprehension test. Tyler Perry's latest collection engages in dialogic, deconstructive play with this familiar format, using...