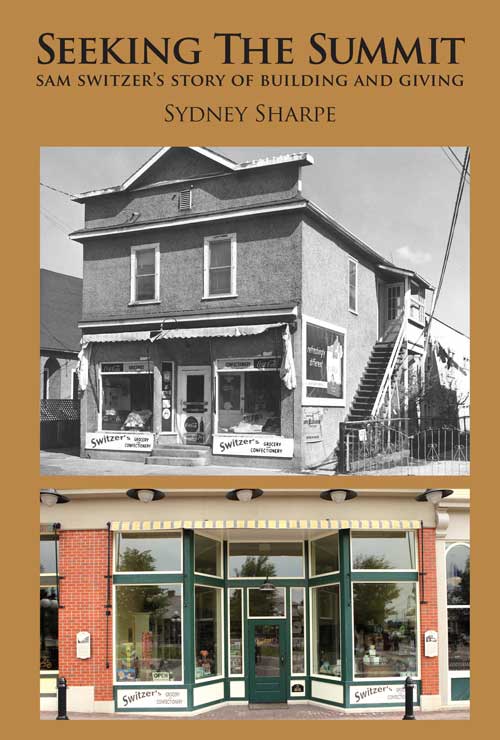 | | |
| --- | --- |
| ISBN # | 9781897181812 |
| Author | Sydney Sharpe |
| Pages | 238 |
| Size | 6 x 9 inches |
| Binding type | Hard Cover |
| Release Date | September 18, 2012 |
| Price CAD$ | $25.95 |
Seeking the Summit: Sam Switzer's Story of Building and Giving is the biography of Sam Switzer, a builder, entrepreneur and philanthropist who was born into an impoverished Calgary family and became one of the province's most successful businessmen.
While much of the book explains Mr. Switzer's various business accomplishments, it also analyses living conditions in Poland, the home of Mr. Switzer's forebears; the social background of early 20th century Calgary and Alberta, especially life in rural Jewish collectives and inner-city communities; and the social and economic structures that made Mr. Switzer's rise to success possible.
From his first business at the age of five supplying ice to Calgary's red light district to his job delivering prescription drugs via bicycle through his developments in the construction industry, casino business and more, we learn of Switzer's lessons, motivations and mistakes.
Much attention is also given to Mr. Switzer's life-long Jewish faith and his intense interest in and commitment to charity and philanthropy – a commitment that has lead to recognition and honours by the Prime Minister of Canada, the Premier of Alberta, the Mayor of Calgary, the Prime Minister of Israel, and many other important national and international figures.
Sydney Sharpe is a journalist and the award-winning author of Staying In The Game, the biography of Doc Seaman; the bestselling The Gilded Ghetto: Women and Political Power in Canada (Harper Collins); Storming Babylon: Preston Manning and the Rise of the Reform Party; and Breakup: Why the West Feels Left Out of Canada (the latter two co-written with Don Braid and published by Key Porter). Seeking the Summit, Sam Switzer's Story of Building and Giving is her eighth book. Sydney also co-edited and co-wrote the best-selling Centennial book Alberta: A State of Mind (Key Porter), as well as an online book, A Celebration of 70 Years of Vision and Action, a study of how the Alberta Medical Association fostered world-leading reproductive medicine for women.
Sydney has been a senior columnist for the Calgary Herald, Calgary Bureau Chief for the Financial Post, and has worked in the press gallery in Ottawa. Throughout her career she has written for numerous magazines and newspapers and has appeared on television and radio.
How to order this book
Our books are available through Alpine Book Peddlers, Amazon and, to a lesser degree, Chapters/Indigo. Or you can make a request at your local bookseller. Alpine can be reached at 1-866-478-2280, or click the link below to order. Discounts are available for bulk orders.
Quartet 2018 Launch in Calgary
Join us for the launch of Quartet 2018 at the new Calgary Library.
Our authors for 2018 are a diverse group whose work variously evokes images of a whirling griot dervish, an Arabic oral ruba'iyat linking climate change and the oppression of women, a military brat at the food of the Rockies, and anthropomorphized creatures that morph into a love song that renders queer lives both vulnerable and endearing.
Rooster, Dog, Crow by Jim Nason
Night Flying by Laurie Fuhr
Nouveau Griot by Tanya Evanson
Ruba'iyat for the Time of Apricots by Basma Kavanagh
By Tyler B. PerryAnyone who has been through school in the past half-century has experienced poetry in the form of the multiple-choice reading comprehension test. Tyler Perry's latest collection engages in dialogic, deconstructive play with this familiar format, using...