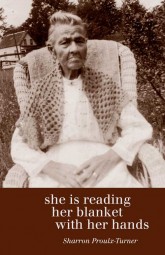 We are so sorry to learn of the passing of Sharron Proulx-Turner, one of the great Frontenac House poets, author of she is reading her blanket with her hands. The poems were a series of love letters to her family and friends, but it soon became obvious that they were also love letters to life. The following is from the end-note to the book:
a bear on a branch of a great white pine
an echo blowing back on a breeze
thirty-five years ago, I read maria campbell's halfbreed. shirley bear, maria campbell, linda hogan and luce irigaray have profoundly influenced me as a writer. language fascinates me, always has, and as a small person I read every book I could get my hands on at the local library. I could tell there was a whole world out there that was very different from the one I lived in, and in many ways that's one of the main things that kept me going and kept me able to hold my silence and maintain a sense of peace in the face of the utter chaos that defined my childhood.
in my growing years, I found it very difficult to place my "I" anywhere where I might be seen. language was something that was dangerous and carried with it the potential of unbearable pain and terror. at the age of six, I was unable to speak for several months. learning to read and write brought clarity and speech back for me. as I grew as a writer, I had difficulty with capitalizing many words, especially the word "I". then I heard a talk by lee maracle, where she described the "I" as the centre of our beings, as the one who houses our spirits. it was then I knew that "I" would be the only word I would capitalize, a decision that would both satisfy my difficulty with the english language's obsessive need to privilege certain words over others by the use of a capital, and my need to make my spirit visible to myself on the page. as aboriginal peoples, ours is the first generation since the indian act (meant to be capitalized) to be able to legally attend post-secondary institutions and to finally publish for ourselves inside an albeit predominantly western worldview.
if there was a way to express my feelings about writing right now, I would become the sound of the water I am. I'd mingle with the river in a way that was unavailable to me in my early years. my fingers have touched the softest down on my babies' backs and felt the centuries of ancestors waiting – those who've gone before us and those yet to come – their stories open moments inside a rainy day.