Update: Our printer is back in action in Quebec. Impact Statement will be available soon. Stay tuned!
Join author Bob Stallworthy for the launch of his fifth book of poetry Impact Statement. Bob will be reading from his book as well as autographing copies purchased at the launch.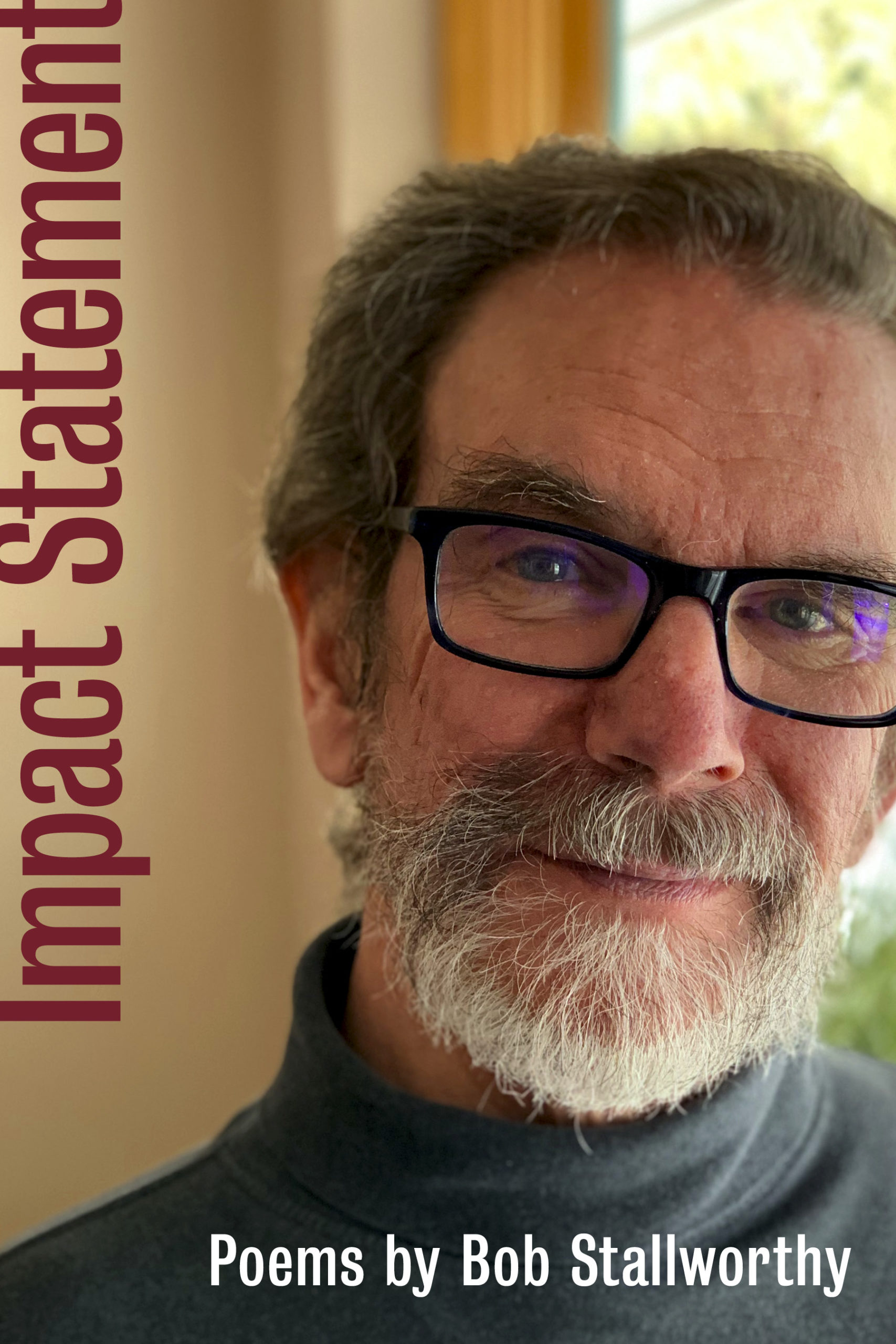 | | |
| --- | --- |
| ISBN # | 9781989466056 |
| Author | Bob Stallworthy |
| Pages | 60 |
| Size | 6 x 9 inches |
| Binding type | Soft Cover |
| Release Date | April 15, 2020 |
| Price CAD$ | 19.95 |
Impact Statement is a book of transitions.Transitions that are brought about by a catastrophic health situation. Transitions in life brought on by facing the potential for death and dying to happen at any time; being desperate enough to ask for help from a long ignored faith; the realization that a long time loving relationship has been neglected; understanding that that relationship can be weeded and tended like a garden until it blooms again. This is, in every sense, a book of love poems.
Bob Stallworthy has been active in the Alberta writing community since he began writing full-time and professionally in 1985. He is a member of the Writers' Union of Canada and the Writers' Guild of Alberta.
Bob has 4 books of poetry previously published. His poetry has been shortlisted for the City of Calgary, W.O. Mitchell Book Prize twice and the Stephan G. Stephansson Prize for Poetry once. 
He is co-recipient of the Calgary Freedom of Expression Award, 2002; a Lifetime member of the Writers' Guild of Alberta,1988; and the recipient of the Golden Pen Award for Lifetime Achievement from the Writers' Guild of Alberta, 2019.
He has been a Patient/Family Advisor with the Kidney Health, Strategic Clinical Network, Alberta Health Services since 2016. He is a full-time caregiver for his wife who suffered traumatic kidney failure in 2013.
Other books by Bob Stallworthy
Under the Sky Speaking, Snowapple Press, 1998
From a Call Box, Frontenac House, 2001 
Optics, Frontenac House, 2004
Things that Matter Now, Frontenac House, 2009. 
In Silhouette, an e-book hosted by Frontenac House, 2010
Bob Stallworthy's poems are spare and understated, yet they fill a huge space of uncertainty, tenderness and the stubborn survival of hope. This book offers us loving insight in a world that "

extends its edge / one step ahead of my foot.

"

~ Alice Major
With "sheets that cling to their cold… my feet in search of yours," Stallworthy's tribute grieves and celebrates this knife-edged journey with his beloved. Tracing each "small round moment in which we live," the poems gift us with the beauty of our fragile immediacy.
~ Weyman Chan
 With sparse yet clear precision and poetic elegance, Impact Statement captures the urgency of life as it is threatened by a surprize emergency. Poet Bob Stallworthy tightens the knot as he invites the reader to the core of his struggle with the end of life, as he knew it. The poetry engages as he traverses personal trauma brought about by the illness of the woman he loves. Through the pages of this book the reader is carefully guided into a stunning resolve as Stallworthy learns to accept change, and even embrace it. Impact Statement is a magnificent reflection and meditation on life.
~ Sheri-D Wilson
How to order this book
Our books are available through Alpine Book Peddlers, Amazon and, to a lesser degree, Chapters/Indigo. Or you can make a request at your local bookseller. Alpine can be reached at 1-866-478-2280, or click the link below to order. Discounts are available for bulk orders.