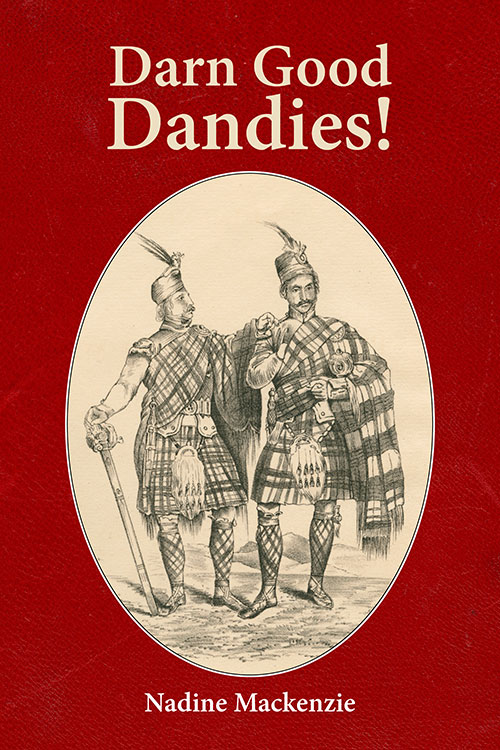 | | |
| --- | --- |
| ISBN # | 9781927823286 |
| Author | Nadine Mackenzie |
| Pages | 112 |
| Size | 6 x 9 inches |
| Binding type | Soft Cover |
| Release Date | February 19, 2015 |
| Price CAD$ | $19.95 |
In 1842, in the midst of a current for tartans and all things Scottish, two brothers published Vestiarium Scoticum, a replica of an ancient catalogue of ancestral clan tartans that they claimed to have been found in a monastery in France. While the book was enthusiastically received by both the public and the clothing industry, there were doubters and critics and claims of outright fraud. But the book persisted and today more than 70 of its tartans are still being worn by the various clans of Scotland, and many still believe that the ancestral designs go back to the dawn of time.
Was Vestiarium Scoticum a genuine ancient text? Or was it a monumental fraud on the public? And who were these so-called "brothers" who claimed to be the grandsons of the Young Pretender, Bonnie Prince Charlie?  Darn Good Dandies! weaves its way through the lives and mysteries and countless name changes of the eccentric Sobieski Stuart brothers.
Nadine Mackenzie lives in Calgary, Alberta. She has published 27 books in French, including children's literature, novels, biographies and history. Her book Du sang bleu dans l'ouest du Canada (Blue Blood in the West of Canada) received an official "Century Certification" to commemorate the First World War from the French government, the only award of its kind to be granted in Canada. She has previously been a journalist and now works as a conference interpreter. She received an M.A. in History of Music from the University of La Sorbonne and has completed Musicology and History of the Arts research at the University of Vienna. Nadine Mackenzie has also received a certificate in Fundamentals of Petroleum from the University of Texas and a certificate in Business Management from the Institute of Public Affairs of Dalhousie University. Her free time is spent riding horses.
How to order this book
Our books are available through Alpine Book Peddlers, Amazon and, to a lesser degree, Chapters/Indigo. Or you can make a request at your local bookseller. Alpine can be reached at 1-866-478-2280, or click the link below to order. Discounts are available for bulk orders.
Quartet 2018 Launch in Calgary
Join us for the launch of Quartet 2018 at the new Calgary Library.
Our authors for 2018 are a diverse group whose work variously evokes images of a whirling griot dervish, an Arabic oral ruba'iyat linking climate change and the oppression of women, a military brat at the food of the Rockies, and anthropomorphized creatures that morph into a love song that renders queer lives both vulnerable and endearing.
Rooster, Dog, Crow by Jim Nason
Night Flying by Laurie Fuhr
Nouveau Griot by Tanya Evanson
Ruba'iyat for the Time of Apricots by Basma Kavanagh
By Tyler B. PerryAnyone who has been through school in the past half-century has experienced poetry in the form of the multiple-choice reading comprehension test. Tyler Perry's latest collection engages in dialogic, deconstructive play with this familiar format, using...