Confessions of an Empty Purse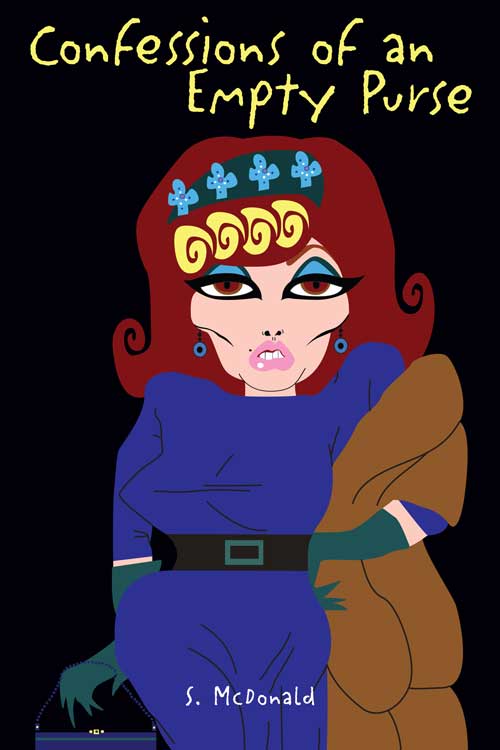 | | |
| --- | --- |
| ISBN # | 9781897181331 |
| Author | S. McDonald |
| Pages | 96 |
| Size | 6 x 9 inches |
| Binding type | Soft Cover |
| Release Date | April 1, 2010 |
| Price CAD$ | $15.95 |
confessions of an empty purse is a poetic transmemoir of passion and fear, laughter, nightmares and dysphoria, preservation, degradation, dreams and pride … and it really happened. I was – am – there.
S. McDonald was born, raised and continues to live in Toronto. Ze grew up in pre-gentrification Cabbagetown and Regent Park. Ze has performed zir alternative spoken word performance pieces at various venues including Buddies in Bad Times Theatre's annual Rhubarb! Festival and Paddy's Playhouse. Ze is the love child of Christine Jorgensen & John Rechy & the spiritual godchild of Jacqueline Susann.
S. McDonald is one of Canada's most talented poets. A true performer, McDonald knows how to work a crowd of people whether at the Rhubarb Festival or a park full of passersby… McDonald writes of life experiences straight from the heart. —
uniquely splices all of the intricacies of an individual caught between genders, manifesting the depths of transition into one seamless, well manicured confessional. McDonald's poems are written in an incredible narrative style, filled with semblances of normality, fantasy, and suicidal tendencies.
This book is equally comedic and wrathful, satirical and acerbic. The lines seem journalistic, but are vivid and personal: "I saw two transsexuals / —talking and laughing— / walking north on Parliament Street. // They were tall, kinda pretty though, / with fabulous height-of-fashion winter coats, / long thin legs and high spike heels." What is fresh in McDonald is the delight in vernacular description….The book is a bravura performance.
A book of poetry that reads compulsively like a novel – the anguished and ultimately courageous story of an individual caught between genders. The narrator is caught in the funhouse mirror of movies and pop culture, between dreams and self-loathing. These poems must be read in tandem with 1960s/70s sexual liberation classics: Jacqueline Susann's Valley of the Dolls (1966), a novel never-old; and Rosemary Daniell's Sexual Tour of the Deep South (1974), a set of "happening" poems.
In these street-wandering confessions, McDonald explores the interstices of gender, perception, and image, floating freely between the depths of narrative and the butterfly brevity of poetry. Here is a text where bodies are mapped onto memories, in turn mapped back onto bodies, a palimpsestic circulation that sometimes storytells, sometimes startles, and always spills its truth, a purse overturned on a page.
How to order this book
Our books are available through Alpine Book Peddlers, Amazon and, to a lesser degree, Chapters/Indigo. Or you can make a request at your local bookseller. Alpine can be reached at 1-866-478-2280, or click the link below to order. Discounts are available for bulk orders.