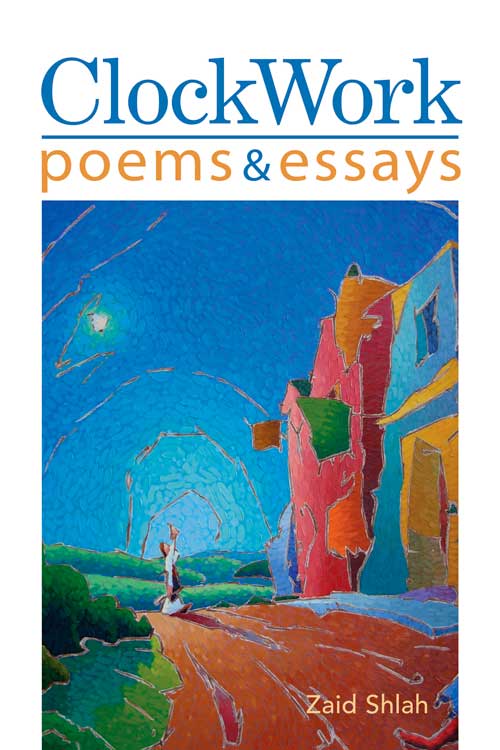 | | |
| --- | --- |
| ISBN # | 9781927823392 |
| Author | Zaid Shlah |
| Pages | 114 |
| Size | 6 x 9 inches |
| Binding type | Soft Cover with Flaps |
| Release Date | July 1, 2015 |
| Price CAD$ | $15.95 |
ClockWork is a sustained argument with the role of the poet/critic, and the search for an alternative narrative. It has been situated with the eye of an exile; that is, Zaid Shlah perceives his native country (Canada) at a distance, and that distance provides an oblique and nuanced view of its poetic/political and public discourse. As an Iraqi-Canadian living in the U.S. (bringing with it all of the conflicted feelings of a protracted and senseless war), the manuscript's primary exploration is concerned with the effects of that compounded discourse on language and poetry, and what the author or the individual might do to get back to seeing himself and the world anew.
Born in Canada, and of Iraqi heritage, ZAID SHLAH currently resides in Northern California with his family. His poetry has appeared in literary magazines, journals and anthologies in both Canada and the US. In May of 2005, he was awarded the American Academy of Poets Award. His first book of poetry, Taqsim, has been published in the US and in Canada (Frontenac House, 2006). He teaches composition and English literature where he is Assistant Professor of English at Modesto Junior College.
"I / would arm you with eyes for an / alternative narrative," writes Zaid Shlah, in a collection that fiercely questions historically fixed ideas about language and then uses that questioning to create something new: a fast-paced, atonal, baroque, spare voice intent on defeating expectations. In a mix of prose and poetry, theory and autobiography, via sonnet cycles, experimental stanzaic arrangements and spiky free-verse, ClockWork is intellectually raw and linguistically free. I've read nothing like it." – Carmine Starnino

"An urgent meditation on tensions between the lyric and the avant-garde, and on the contemporary poet's exile from tradition. ClockWork calls for a poetry beyond aesthetics and innovation, and for the return of the poet-critic." – Carolyn Cooke

This is a work of extraordinary vision and desire. Only a real poet would engage the labyrinthine domains of language, their factories and control systems, to achieve a genuine critical consciousness that insists on resistance as well as kindness. Zaid Shlah is such a poet, and his hybrid, achingly searching ClockWork captures this on the dot. This is no punch-card book. His imagination guides him to the revolutionary spirit of Nock, Gould and Said among others. "I saw more in the eyes of the/ poet in exile than in all the weight/ of the sagacious man's empire," he tells us. Shlah's necessity arms us with an alternative narrative. – Fady Joudah
How to order this book
Our books are available through Alpine Book Peddlers, Amazon and, to a lesser degree, Chapters/Indigo. Or you can make a request at your local bookseller. Alpine can be reached at 1-866-478-2280, or click the link below to order. Discounts are available for bulk orders.
Quartet 2018 Launch in Calgary
Join us for the launch of Quartet 2018 at the new Calgary Library.
Our authors for 2018 are a diverse group whose work variously evokes images of a whirling griot dervish, an Arabic oral ruba'iyat linking climate change and the oppression of women, a military brat at the food of the Rockies, and anthropomorphized creatures that morph into a love song that renders queer lives both vulnerable and endearing.
Rooster, Dog, Crow by Jim Nason
Night Flying by Laurie Fuhr
Nouveau Griot by Tanya Evanson
Ruba'iyat for the Time of Apricots by Basma Kavanagh
By Tyler B. PerryAnyone who has been through school in the past half-century has experienced poetry in the form of the multiple-choice reading comprehension test. Tyler Perry's latest collection engages in dialogic, deconstructive play with this familiar format, using...