Breathing Stone: Contemporary Haida Argillite Sculpture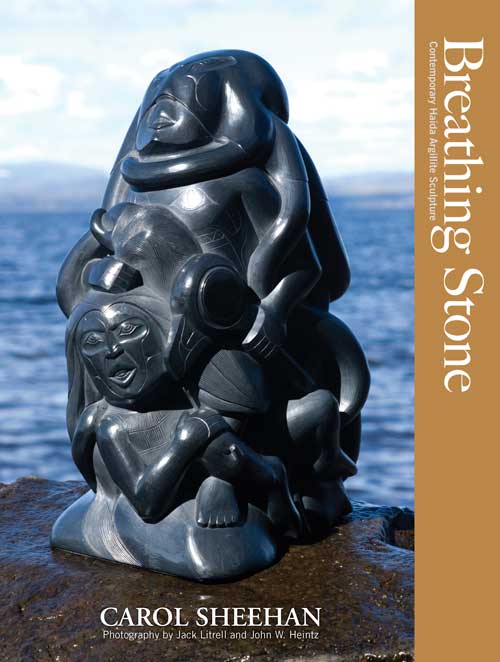 | | |
| --- | --- |
| ISBN # | 9781897181225 |
| Author | Carol Sheehan |
| Pages | 192 |
| Size | 12 x 9 inches |
| Binding type | Soft Cover |
| Release Date | May 1, 2008 |
| Price CAD$ | $35.00 |
Breathing Stone presents extraordinary new sculptures by contemporary argillite artists of Haida Gwaii- the Queen Charlotte Islands.
Breathing Stone begins with author Carol Sheehan's introduction to Haida culture and the historical realities that have shaped this unique art form. There is also an explanation of how argillite sculpture is produced and how it can best be appreciated. Personal portraits of 15 sculptors and their work, illustrated by nearly 200 colour photographs taken in artists' workshops, galleries, collectors' homes and on-site in Haida Gwaii, demonstrate like nothing else the power and richness of this art form (Photography by Jack Litrell and John W. Heintz).
Carol Sheehan is a leading authority on Northwest Coast culture and art. Her experience includes the organization of major argillite gallery exhibitions of argillite, in particular the celebrated Glenbow presentation Pipes That Won't Smoke; Coal That Won't Burn: Haida Argillite Sculpture, generally regarded as the definitive modern presentation of the subject. Her book of the same name, written to accompany the exhibit, has had a major influence in stimulating interest in argillite sculpture.
Ms Sheehan's other published work includes chapters on the Northwest Coast in Native American Myths and Legends and Native American Arts and Crafts; and numerous entries on First Nations Artists for The Canadian Encyclopedia.
In writing Breathing Stone, the author worked closely with collectors and galleries in the United States and Canada, and held extensive meetings and interviews with all the sculptors represented in the book, in Haida Gwaii, Victoria, Port Alberni, Courtney and Vancouver.
Throughout, the excitement and commitment of the Haida artists shines through. For them, argillite sculpture is a source of intense pride, a means of showing the world the richness of their culture. The result is a book that is authoritative, passionate, original and beautiful.
Sean Brennan
Michael Brown
Donnie Edenshaw
Shaun Edgars
Chris Russ
Gary Minaker Russ
Marcel Russ
Lionel Samuels
Jay Simeon
Robert Vogstad
Darrell White
Gryn White
Martin Williams
Cooper Wilson
Freddie Wilson
How to order this book
Our books are available through Alpine Book Peddlers, Amazon and, to a lesser degree, Chapters/Indigo. Or you can make a request at your local bookseller. Alpine can be reached at 1-866-478-2280, or click the link below to order. Discounts are available for bulk orders.
Quartet 2018 Launch in Calgary
Join us for the launch of Quartet 2018 at the new Calgary Library.
Our authors for 2018 are a diverse group whose work variously evokes images of a whirling griot dervish, an Arabic oral ruba'iyat linking climate change and the oppression of women, a military brat at the food of the Rockies, and anthropomorphized creatures that morph into a love song that renders queer lives both vulnerable and endearing.
Rooster, Dog, Crow by Jim Nason
Night Flying by Laurie Fuhr
Nouveau Griot by Tanya Evanson
Ruba'iyat for the Time of Apricots by Basma Kavanagh
By Tyler B. PerryAnyone who has been through school in the past half-century has experienced poetry in the form of the multiple-choice reading comprehension test. Tyler Perry's latest collection engages in dialogic, deconstructive play with this familiar format, using...