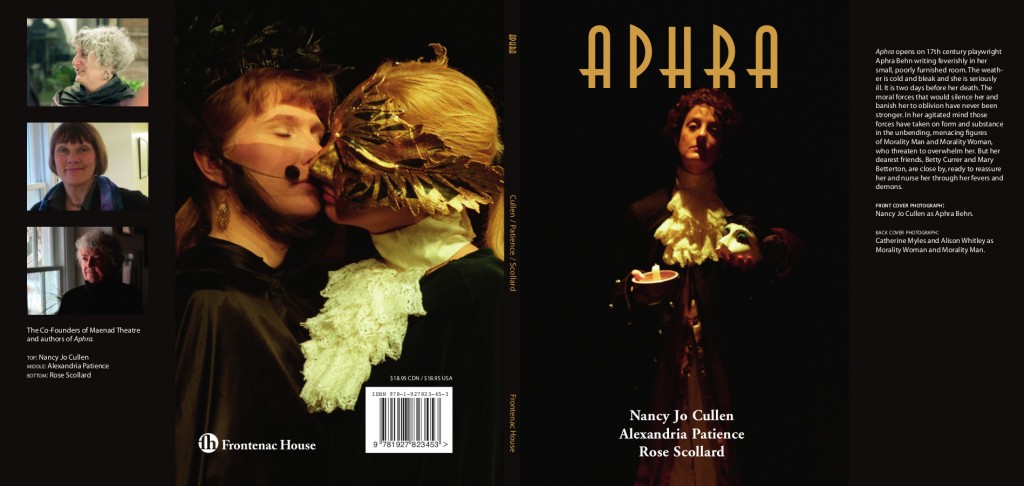 Aphra by Rose Scollard has been shortlisted for the Gwen Pharis Ringwood Award for Drama! Each year, the Alberta Literary Awards recognize and celebrate the highest standards of literary excellence from Alberta authors. Winners will be announced and awards presented at the Alberta Literary Awards Gala on June 4, 2016 in MacDonald Hall at SAIT in Calgary.
Gwen Pharis Ringwood Award for Drama (Sponsored by Alberta Views)
Beth Graham (Edmonton) – The Gravitational Pull of Bernice Trimble
Rose Scollard (Calgary) – Aphra
David van Belle and Eric Rose (Calgary) – The Last Voyage of Donald Crowhurst
ABOUT APHRA BEHN
The first Englishwoman to earn her living by her pen, Aphra Behn challenged the popular expectations placed upon 17th-century women.
All Women together ought to lay flowers on the grave of Aphra Behn, for it was she who earned them the right to speak their minds.  ~Virginia Woolf
Aphra Behn had travelled to the Americas, spied for King Charles the Second and spent time in debtors' prison all by the age of 30. In 1670, the production of her play The Forced Marriage launched her as a playwright and the first English woman writer to earn a living solely through her pen.
ABOUT APHRA, the play
Aphra by Nancy Jo Cullen, Alexandria Patience and Rose Scollard
Aphra opens on 17th-century playwright Aphra Behn writing feverishly in her small, poorly furnished room. The weather is cold and bleak and she is seriously ill. It is two days before her death. The moral forces that would silence her and banish her to oblivion have never been stronger. In her agitated mind those forces have taken on form and substance in the unbending, menacing figures of Morality Man and Morality Woman, who threaten to overwhelm her. But her dearest friends, Betty Currer and Mary Betterton, are close by, ready to reassure her and nurse her through her fevers and demons.
Aphra premiered in 1991 with Maenad Theatre, Calgary, the first woman-centred theatre company in Western Canada.
Maenad Theatre was formed by the authors in 1986 because there were so few opportunities in theatre for women. As Rita Fraticelli reported, only a few years earlier, between 1977 and 1981 only 10 percent of produced playwrights in Canada were women.