Amazing Flights and Flyers
By Shirlee Smith Matheson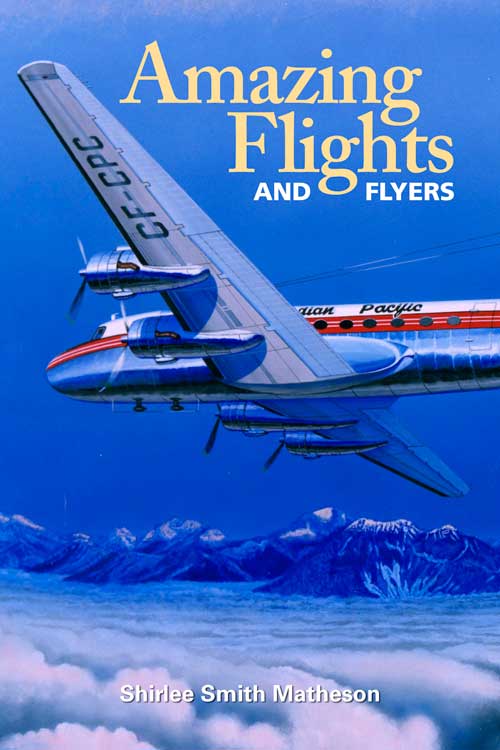 | | |
| --- | --- |
| ISBN # | 9781897181294 |
| Author | Shirlee Smith Matheson |
| Pages | 286 |
| Size | 6 x 9 inches |
| Binding type | Soft Cover |
| Release Date | December 1, 2009 |
| Price CAD$ | $19.95 |
Amazing Flights and Flyers, a collection of true aviation stories that graphically demonstrate the almost super-human endurance and tenacity of aviators in life-or-death situations – examples include the two mid-winter medical evacuation flights pioneered by the intrepid crew of Kenn Borek Air; the continuing efforts by volunteers from CASARA to search for lost people and planes; the determination of aviation pioneers who fight to fly the volatile conditions experienced in our Maritime provinces; the amazing lifestyles of those who choose to live in the Far North and never want to leave.
On the other side of the flying field are those who used flight as an opportunity for personal escapes or hijacking capers, or whose fates were suddenly decided by bad luck – engine failure, sudden weather changes, or chances taken with unfamiliar machines and terrain. A high-risk wartime story chronicles the attempt of enemy forces to dock their U-boat on Canadian soil to install a weather reporting station.  All are remarkable stories, and most are little-known.
Shirlee Smith Matheson is the author of numerous books on Canadian aviation, including Volumes I, II, and III of Flying the Frontiers; A Western Welcome to the World – The History of Calgary International Airport, and Maverick in the Sky – The Aerial Adventures of WWI Flying Ace Freddie McCall.
Shirlee has also written on other non-fiction subjects for adult readers, as well as novels for young people, short stories and stage plays. She is a charter member of Canadian Women in Aviation International (Alberta Rocky Mountain High chapter) and, in 1999, was awarded The 99's Canadian Award in Aviation. Her literary awards include The 99s Canadian Award in Aviation; The Emerald Award; Honorary Associate of Arts (Northern Lights College), and Distinguished Alumni 2001-2 (Athabasca University).
Born in Winnipeg, Shirlee has since lived in all four Western Canadian provinces. For many years she resided in the Peace River country of northeastern B.C., and currently makes her home in Calgary, where she is a Life Member of the Aero Space Museum of Calgary.
How to order this book
Our books are available through Alpine Book Peddlers, Amazon and, to a lesser degree, Chapters/Indigo. Or you can make a request at your local bookseller. Alpine can be reached at 1-866-478-2280, or click the link below to order. Discounts are available for bulk orders.
Quartet 2018 Launch in Calgary
Join us for the launch of Quartet 2018 at the new Calgary Library.
Our authors for 2018 are a diverse group whose work variously evokes images of a whirling griot dervish, an Arabic oral ruba'iyat linking climate change and the oppression of women, a military brat at the food of the Rockies, and anthropomorphized creatures that morph into a love song that renders queer lives both vulnerable and endearing.
Rooster, Dog, Crow by Jim Nason
Night Flying by Laurie Fuhr
Nouveau Griot by Tanya Evanson
Ruba'iyat for the Time of Apricots by Basma Kavanagh
By Tyler B. PerryAnyone who has been through school in the past half-century has experienced poetry in the form of the multiple-choice reading comprehension test. Tyler Perry's latest collection engages in dialogic, deconstructive play with this familiar format, using...