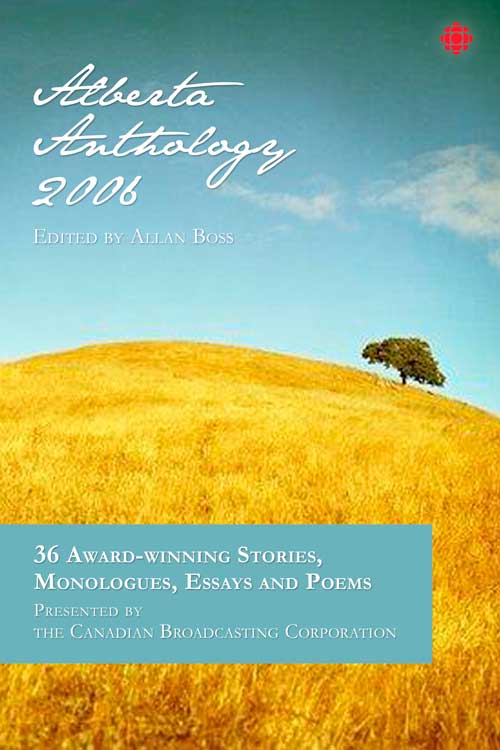 | | |
| --- | --- |
| ISBN # | 9781897181065 |
| Author | A.G. Boss, ed. |
| Pages | 168 |
| Size | 6 x 9 inches |
| Binding type | Soft Cover |
| Release Date | January 1, 2006 |
| Price CAD$ | $18.95 |
This book contains stories, essays, poems and dramatic monologues by some of Alberta's best writers. The pieces are far ranging in their subject matter, from relationship narratives to insights about landscape, from rainy day noir to futuristic card games, from the power of chocolate to reflections on art and identity.
These pieces illustrate the broad range of talent in Alberta and show the many paths writers can take during their lives. The judges were Albertan writers respected around the world: Governor General's award winning writers Sharon Pollock (Dramatic Monologue), E.D. Blodgett (Poetry & Poetic Prose), Gloria Sawai (Short Story), and GG nominated writer Aritha van Herk (Creative Non-Fiction).
A.G. Boss was Entertainment & Drama Producer for CBC in Alberta. His stage plays include My Burning Bush, Curves in the Road, and Swimming with Goldfish. His CBC Ideas docudrama updrafts was nominated for some of the world's top radio awards, including a Peabody, a Gabriel, a New York Festival, and a Prix Italia. His monologue Reflecting Reason was inspired by a sudden recognition of similarities between a child and its parents. The piece is about the formation and discovery of identity, and it also examines the roles of commerce and art. He is currently Curator of the art gallery and museum in Okotoks, Alberta.[/tabber]
The standout story is first-place professional winner Leslie Greentree's "The Brilliant Save," about amateur hockey heroics and male braggadocio: how the guy who can stop a puck with his tough exterior becomes a metaphor for a life cut short by adolescent bravado…the story is terse and economical, handling the conventions of the Freytag triangle with wit and grace. Professional first-place winner Rebecca Bradley turns in the standout performance with her "Wedding in Sepia," a meditation on a wedding picture, circa 1911, Calgary, which makes much of body language, eye contact, and poise and pose to adumbrate the lacunae in Victorian manners and behavioral/dress codes, and speculate from empirical evidence on future relations. Second Place, Professional Category winner Caterina Edwards offers a similarly laconic, masterful piece of retrospective narration that contrasts a little girl's perceptions to the larger movements of history. The timing is perfect and the control of colloquial speech rhythms and the Mother Goose melodies of children's sentence inflections note perfect. Editor A.G. Boss kicks off the dramatic monologue section with a piece of his own, "Reflecting Reason," as if to set the tone or show the others how such a marvel of concision can be constructed… It's a clever, witty piece, a kind of cartoonish fractured fairy tale.
A strong collection of Alberta voices.
How to order this book
Our books are available through Alpine Book Peddlers, Amazon and, to a lesser degree, Chapters/Indigo. Or you can make a request at your local bookseller. Alpine can be reached at 1-866-478-2280, or click the link below to order. Discounts are available for bulk orders.
Quartet 2018 Launch in Calgary
Join us for the launch of Quartet 2018 at the new Calgary Library.
Our authors for 2018 are a diverse group whose work variously evokes images of a whirling griot dervish, an Arabic oral ruba'iyat linking climate change and the oppression of women, a military brat at the food of the Rockies, and anthropomorphized creatures that morph into a love song that renders queer lives both vulnerable and endearing.
Rooster, Dog, Crow by Jim Nason
Night Flying by Laurie Fuhr
Nouveau Griot by Tanya Evanson
Ruba'iyat for the Time of Apricots by Basma Kavanagh
By Tyler B. PerryAnyone who has been through school in the past half-century has experienced poetry in the form of the multiple-choice reading comprehension test. Tyler Perry's latest collection engages in dialogic, deconstructive play with this familiar format, using...